Goth clothing is lovely for fashion enthusiasts who like to try on daring looks. Tracing back to its origin, it strays from conservative themes since the whole concept revolves around exploring fresh outfits and pushing the bar. Whenever you hear of Goth wear, the thought of skull prints, punk footwear, and heavy metal is never far from mind. The plus size goth clothing style is best suited for a community of people who do not conform to mainstream fashion.
To find clothing that accentuates the curvy body it is important to shop in the right places and pick out specific silhouettes. Gone are the days when a curvy woman had to subscribe to formless pieces that did nothing for her figure. In this era, fit is everything, and being so, the fashion industry is finally warming up to more shapely attires for curvy bodies. You might as well make the most out of this trend! Think you're too big to look to show off your curves? Well, I'm here to prove you wrong.
Over the years, goth wear popularity has grown in leaps and bounds accommodating not just the sample sizes but also larger girls as well. It provides an avenue for authentic self-expression while encapsulating a stylish edge. This is what makes it so enviable!
Here is a guide to excellent–fitting Goth clothes that will flaunt your frame as it should. The aim is to help you to feel confident in your skin and of course, serve amazing alternative options that you could rock. That's right; your curves should love and fit perfectly without hassle. Best of all, the balance between your upper and lower body will not be compromised either. I suggest you grab your diary for all the fantastic tips lined up. Cheers… and let's dive in right away!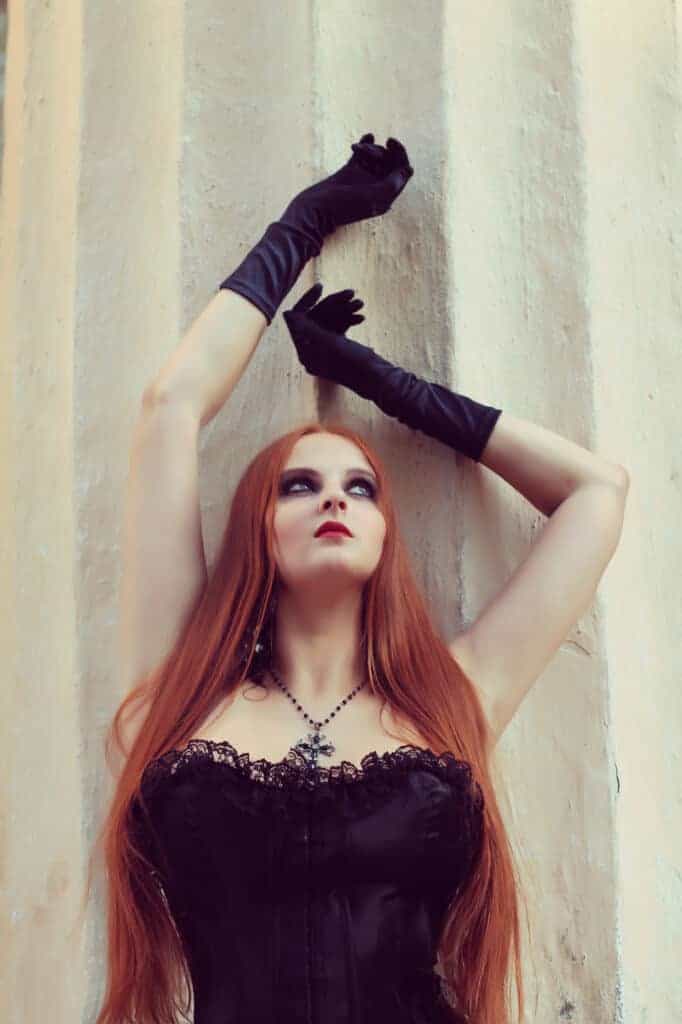 The Best Plus Size Goth Clothing Collection for a Curvy girl
If you're a fan of fashion design you're going to love the Grebrafan Steampunk Midi Skirt. The dress is made from satin and lace fabrics so that in itself speaks of its flexibility and ease of movement. Up against the wind, the skirt sways from side to side creating a sight lovely to behold. And to further amplify this effect, the fabric is arranged in multilayers and gathers! This carefully thought out design adds a sense of playfulness that any costume lover will appreciate.
Thanks to its highly elastic waistband, the cloth too is a practical option. It tucks in your tummy creating the illusion of a trim center while at the same time enhancing your curves vividly. The extra zip fastening moreover secures your mid-area holding you firmly as desired. No more worries about those bumps and lumps! And for the best part, it's available at a budget-friendly price!
For years, women have rocked sleeved dresses for all kinds of wears, be it casual, party, office, et cetera. It is especially a favorite among the plus size majorly because it hides those flabby arms you would rather not expose. In goth clothing, the short-sleeved niche isn't a letdown either.
Whatever the nature of the event, this classic piece will probably make a good choice, but especially so when planning for a cocktail party. It's flirty with just the right length to keep your look mysterious through the night. Further ahead the cloth is fitted with a concealed zipper that ensures your back is flirtingly exposed. To crown it all off, the dress boasts of a vintage appeal giving you that timeless retro vibe.
Structure-wise, the Grace Karin Women 50s Vintage Sleeveless V-neck is shaped to an asymmetrical cut that gracefully adapts to your inherent figure. In addition to its bodice lining, it is also very comfortable to spend the day in. For ladies with heavier chests, there's more than enough support to give you an ample lift.
Owing to the numerous size options, you can rest assured there will be a fit tailored to your body. So go ahead and grab yours!
This next piece is perfect for occasions that demand a lot less coverage, say a beach party or summer pool vacation. As you can imagine having all eyes on you can be quite intimidating especially with leaner girls not wasting the slightest chance to parade their petite waists. But not to worry! Here is a lightweight cover-up that works incredibly well with heavier girls without sacrificing the fun element. Your goth style will be top-notch wherever you are!
The Printed Strappy Sleeveless Goth dress comes third on this list, and here is why you'll love it. For starters, it is designed from a variety of pretty bright and shinning floras arranged in enchanting patterns. This dress is the perfect update for your summer wardrobe in whatever style you like! Furthermore, it possesses a flared swing flit that is made from a soft fabric comfortable to wear.
Put it on with simple sandals for a fantastic summer look or wind up your evening relaxed in a pair of sheer pantyhose and you'll have your looks on point! Also, on those romantic nights, slip on this nightie and treat your spouse to some jaw-droppingstyles. It doubles up both ways.
If you're searching for a Plus size dress that you can wear to many occasions I'd recommend the Kobay Women Plus Size Plaid Skew Neck Belted Irregular Gothic Dress. Here's why;
First, its neckline is quite an eye-catcher transitioning to an uncommon layout. It has a youthful vibe enough to have you stealing glances from onlookers. This is the kind of dress you pull out for a rock and roll concert. Have some cool hair highlights going on and boom! You have yourself a badass look. I particularly love the plaid skirt finish; it takes away the monotony of the infamous flannel shirts.
Onto the structure, it climaxes to an unbalanced hemline which adds a little bit more drama to the ensemble. The top is designed to fit as the bottom flares out into a free, flowy skirt- the perfect recipe for a big girl. Owing to the overall A-line formation, the dress skids over your features hiding any bumps while simultaneously emphasizing the curvy nature of your butt. It also playfully exposes your thigh area but is low enough to hide cellulite common around this area.
If you are not comfortable wearing it on its own, pairing it up with some fishnet stockings will still look great. The dress is suitable for all seasons.
If you like a comfy and a soft top, the Fashion Star Women's Floral Skull Direct Sleeved Baggy Goth top makes an excellent option.
It likely will become a favorite as it hides unwanted bulges and flatters your shape. And not to mention how soft and smooth it feels on your skin. The top is also ideal in that it doesn't come off as uncomfortably tight but hugs just right without squeezing you in. The occasional humiliating ride-ups will therefore be a non-issue.
Additionally, the designers put in the effort to showcase an array of vibrant colors fit to complement different complexions. If you're anything but a neutral girl, there are tons of shades available to your liking. A classical touch of style mixed with colors, adds to the reasons why this Goth top is much loved.
How to select the Best Plus size Goth Clothing that your Curves will Love
Now that you have a list of favorite Goth pieces that blend well with voluptuous your curves, the next important step is to understand what works best for your body amongst the multitude of Goth options. Each shape is unique and as such, finding the right fit is important just as is selecting ideal clothes for any occasion. Here's how to do that.
Focus on areas to highlight
While all body parts are beautiful, your primary guide should be that which you consider most attractive feature-wise. It could be your arms, legs, or perhaps cleavage- of course with a bit of regulation; you can wittily pull this off. The idea is not to go overly wild as this could potentially be counterproductive to your image, but there's no harm in showing a bit of skin. Take for instance a keyhole dress that hugs your figure in all the right places. With that said, Grace Karin Women's 50s Vintage Sleeveless V-neck Goth Dress for curves is a good option! It is designed with an excellent front cut exposing just a hint of to cleavage at the same time spreading out your curves perfectly.
Don't Pick Shapeless Attires at any time
Being curvy doesn't mean your body will love any cloth. In fact, the shape of the cloth determines how well your curves show therefore a shapeless number is certainly not the way to go. This is because it adds to the overall bulk making you appear heavier than you actually area. Have you seen women walking around looking like tents? That is how bad a result a poor selection can afford.
In that case, stay away from formless dresses to avoid unnecessary volume that will swamp your shape. Instead, embrace bandage attires to show off your curves beautifully. Lastly, tie everything together with a cute pair of boots and rock your look with confidence.
Embrace Sexy Undergarments to add Confidence and Elegancy
Plus-size bodies are naturally figure- full and well endowed. Unlike skinny girls, we don't have the privilege to throw over anything and go about without extra support. As you guessed, the more the holdup, the smoother your outward figure. Undergarments give the right amount of tuck in those problematic areas, particularly the midsection and sides.
To avoid appearing lumpy, ensure your dress code is mixed with other style and fashion combinations that complete your desired look. Think of adding shapers such as a bralette set, corset, as a way to skyrocket your fashion prowess. As a bonus, shape wears give you the needed confidence boosts to go about feeling your best self.
Bodies come in different forms and once you identify your category, selecting the best Goth clothing should be a walk in the park. That said, here are some of the curvy shape differences;
i. Apple-shaped– women under this description tend to have a fuller middle and may or may not be a top-heavy. The distinguishing factor draws to a less defined waist.
ii. Pear-shaped – this figure leans towards the curvier side with narrow shoulders, shapely thighs, and broadened hips.
iii. Hourglass-shape– apart from the pear-shape, this is also one of the most streamlined bodies there is. It's no wonder a great majority crave to achieve such a structure. The shape boasts of a fuller bust, huge hips and thighs but with the accent of a cinched-in waist.
Depending on what description you fall under, precise cuts and cloth silhouettes flatter better than others.
Endnote
Dressing for a plus-size body is like searching for a needle in a giant haystack if you don't know what to look out for. It takes more than a good eye for fashion to discover what is ideal for your body. This includes paying attention to crucial details such as the fit. The sole purpose of this guide is to shine light on stunning goth attires that will change your look from drab to fab.
Plus-size Goth clothing brings you a collection of dresses, tops, and bottoms that pair well with women of every shape and size. Think of it as your curvy look book. Besides, there's no better way to let your personality shine other than well-fitting items from the genre you adore!