Hair works just the same as clothing. A wrong fit or poor color combination will automatically throw off the look. When it comes to selecting the perfect hairdo, a chubby girl may tend to have it rough considering her facial fat. Sampled below are some of the best styles that will accentuate your facial features.
What are the top 5 trendy hairstyles for plus size women? The answer is quite simple. A number of hairdos will work just fine if only worn appropriately. This means long, short, and medium-length hairs can sit right with your body and face structure when applied correctly. Any overweight girl will agree to the fact that self-image is one of the most vital ingredients for high self-esteem. I mean, no one ever wants to step out looking utterly round. This is why you need to find yourself a professional hairdresser who will customize a look to your liking and grant you the boldness to take on the world.
Ultimately, different hair types will take to certain styles better than others. Hair textures vary and must be appreciated. There are those styles that will look flawless on kinky hair and those that will take to straight hair quite smoothly. Either way, the end goal should be to work with is best for you. For that reason, here are some of the top trendy looks that you cannot go wrong with!
1. Pixie cut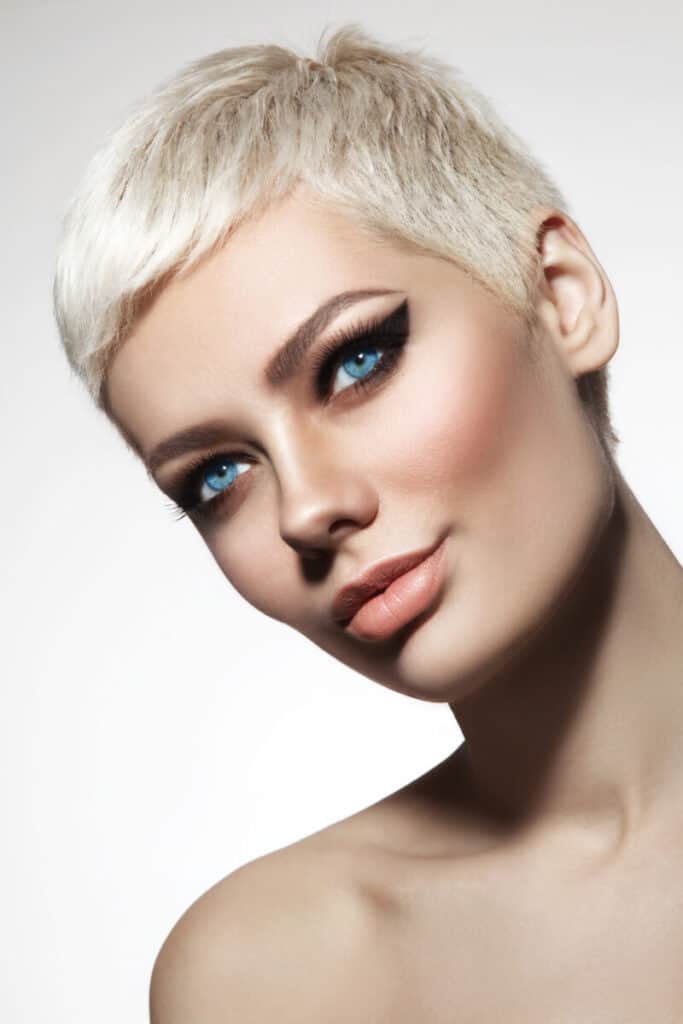 Short hair is far from boring and now more than ever, pixie haircuts are the go-to look. The style is designed to slim down along the temples/ears area, while giving a much fuller appeal at the center and front. Today, pixies are embracing a much more versatile edge so basically, you can play around with it much to your taste.
A round face will be complemented with a short cut for the following reasons:
It creates an illusion of an elongated neck.
The pointed edges work to take the attention off your cheeks
It adds volume in just the right places
A front flip takes care of larger foreheads
The best length for such a look is ½ an inch above your shoulders or shorter. Longer versions beat the whole idea of a trimmed cut. The best thing is how practical this style is for all age types! It works for teenagers, moms, older women, anybody really.
2. Straight bob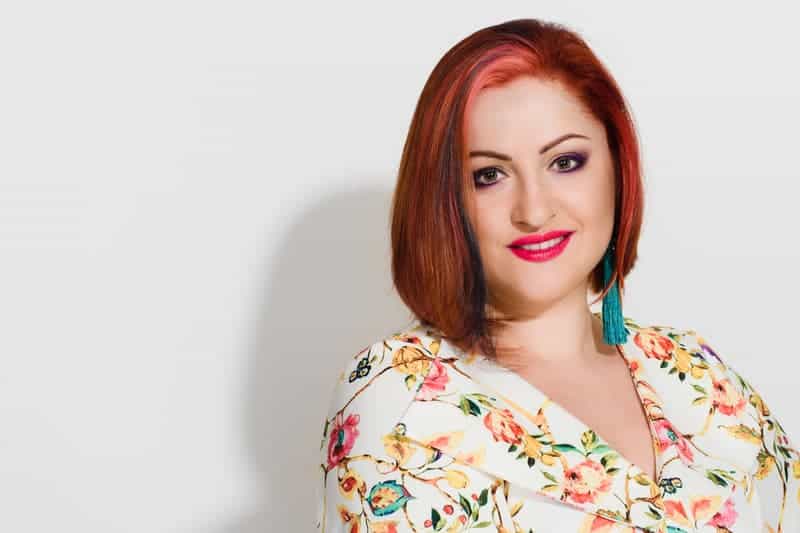 This is a very close relative to the pixie but unique in its own rights. It is obviously longer however adds a bit more funk to its appearance. The benefit of a bob is it's not too short status that would otherwise come off a bit awkward, with particular face types. Ideally, it gives more length just enough to cover the chin and cheeks. A double chin will certainly go unnoticed with a straight bob.
For optimum contraction, keep your front bangs slightly longer than the actual cut. The unevenness will disguise all those areas you would like tucked away. Better yet, the outcome is nothing short of cheek and classy.
3. Wavy side curls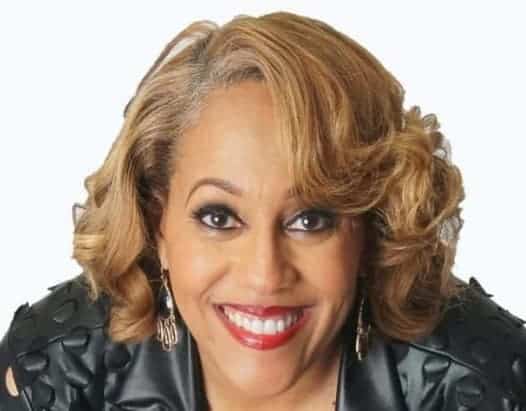 You'd be surprised just how much you can get away with this hairdo. This is basically a cheat style for all ladies with averagely long or medium hair lengths. It is more of a simple natural approach that is flexible to numerous styling. You should know that very straight hair makes your face look wider while a touch of curls gives you a much toned down countenance.
These side bangs eliminate conspicuous fat deposits and instead add more definition and sculpture. The fact that it flows down to your shoulders gives you the allowance of concealing unpleasant marks and spots that would easily disadvantage your style.
For girls with natural kinky locks, let your curls pop! Frizzy hair is especially beautiful when left a bit messy. This is not to mean unkempt hair, but simply a laid back style. Big voluminous manes draw the eye thus giving your face the right lift. None the less, if you have less defined curls, a blowy loose approach will equally do.
4. Fringe hairstyles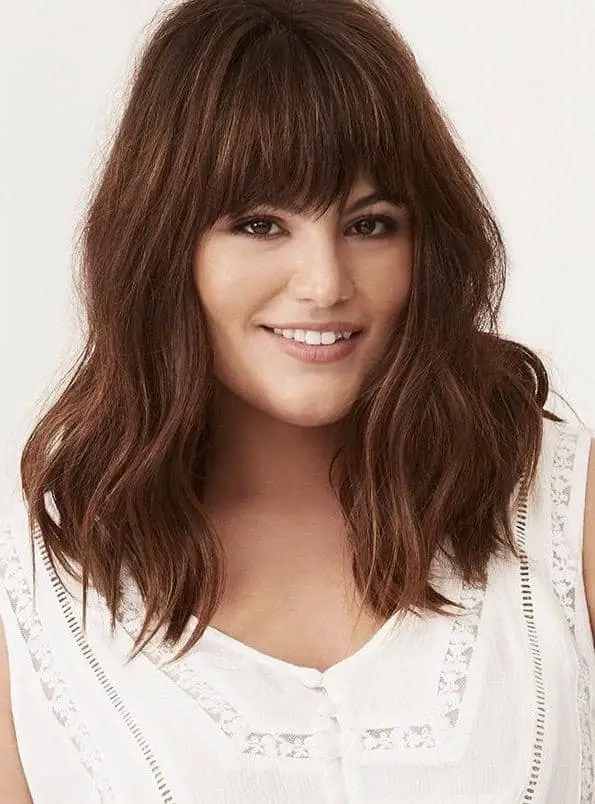 How about a step outside the norm? A fresh new style is definitely a game-changer when it comes to revamping your old self. It transforms you into a whole new person. Many women tend to shy away from statement fashion in the fear of possible disappointments; however, it takes a bold move to create a bold look. Typically, a fringe works side by side with a straight hair cut, only introducing a noticeable centerpiece. However, this little detail is the cherry on the cake. It lies horizontally around the forehead area, drastically downsizing its actual size. This gives room for you to boast of other features such as the eyes and lips. Indeed, it is a glamorous choice worth the try!
5. Long layers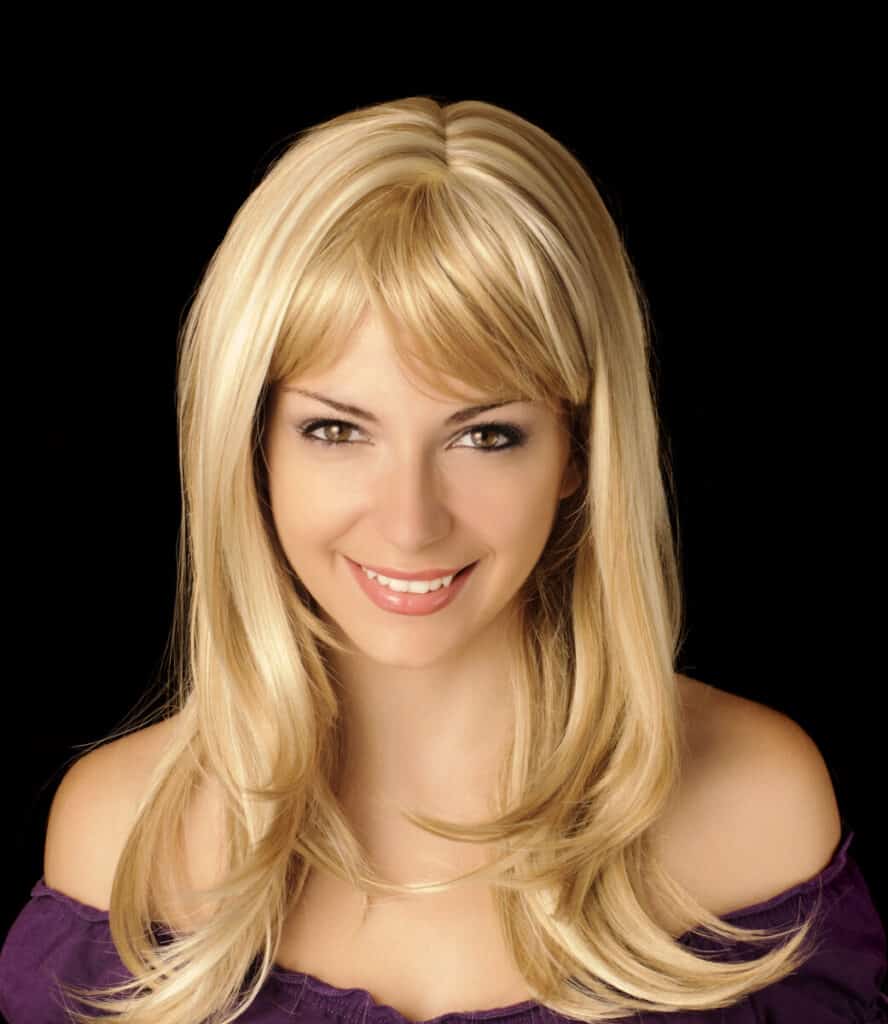 This is the oldest trick in the book when it comes to leaner exteriors. Here is why:
It perfectly cups your face
Long enough locks partially cover the ears hence amplifying the effect
It is quite flexible in styling thus giving you broader options
It looks great from multiple angles
Maintenance Levels
At this age and time, everyone is on the lookout for cost-effective options. Getting a new hairstyle comes with the responsibility of maintenance, sometimes extreme in other case scenarios. A good hairdo should last you approximately 3 weeks to 3 months depending on your lifestyle. Nevertheless, that doesn't take away from the fact that we all want something easy to manage and keep for as long as we can.
A basic long cut is one of the simplest to maintain. It doesn't take much to keep it in good shape. In fact, length gives you numerous privileges and alternatives that do not require several trips to your stylist. It is manageable with simple DIY tricks and home-made designs. On a normal relaxed day, you can easily just wrap it up in a bun, rush to the gym, or simply get on with the rest of your activities.
On the flip side, short hair does demand much more work. You should be prepared for many more frequent visits for touch-ups. Pixie hair and bobs for instance may require a fresh cut every 2-4 weeks. This is because razor cuts tend to grow back very fast. Conversely, the day to day styling is unrivaled in terms of limited-time consumption. The fixes are quite quick.
If you happen to have a bit more textured hair then the approximated 4-week time frame could drop even lower. Waves and curls are also hands-on styles. To keep them looking vibrant and fresh, you should book a hair appointment every now and then.
In light of product consumption, the tables turn. Shorter length cuts down on budgets considerably because hair products last longer. On the other hand, girls who wear their long hair out are tasked with constant replacements because it takes large amounts to keep your hair looking healthy.
Hair Color and Highlights
A tinge of color does revolutionize the whole look, taking it to a brand new level. Darker shades create sharp contrast whereas lighter ones create subtle variations. Black and brown are the most common hair colors but some audacity will do you good once you step out of your comfort zone.
Some of the current shades that hairstylists see transcending time include silver, gray, caramel, blonde undertones, rich red and burgundy, and lilac. Blonde, especially, seems to be ageless considering the endless color tones it comes with. It is perfect all year round and blends in during different seasons.
Two-toned hairs are in the market because of the shadowy effects they invoke. Your roots can vary from the rest of your hair or simply combine similar shades that go well together. For instance, caramel highlights are tranquil against deeper brown colors.
Whenever you want to try something a bit more daring, consider unconventional shades. However, remember anything more than 2 shades darker or lighter than your skin tone will require a professional. On top of that, colored hair requires proper maintenance, so grab yourself a shine spray to keep your locks looking glossy
Simple Styling tips
Aside from just picking the right look, styling, and creativity add a bit more flavor. In this case, a plump face does not require any more bulk. Wrong styles can just as easily ruin a potentially good hairdo. We actually have a few fashion top picks that can help. The objective should be to nullify as much weight as possible while keeping your look stylish and modern.
In that case, here are some of the essentials you should know when grooming:
1. Always add layers – this is achievable with tapered cuts. A tapered cut is one that carries different lengths as opposed to one constant height. It can be worn in multiple ways or similarly applied on just about any kind of hair as long as it is smooth. Layers work to add more depth and break the monotony of conventional styles.
Girls with thin hair can make their locks appear fuller now that the cut takes to a slim frame toward the end. This effect is regarded as a feather touch. Tapered cuts stand out on pixies, bobs, and any other uneven hairstyle. Not to mention the tangle-free ends it avails such that you can easily slide your comb through without suffering too much breakage.
2. Slide-in a high bun – try as much to incorporate a knot or raised bun; of course, depending on your hair's flexibility. What this does is pull your face tissues upward while visibly displaying your jawbones. An updo is quite achievable on most hairstyles from cornrows, braids, loose hair, and does quite an excellent job in introducing a change.
3. Half-up do styles – this is for anyone who would still love to have hair falling down. Just like the name, a half updo ties a portion of your hair while leaving the rest free. It equally provides the same tight facial appearance as a complete lift.
4. Braided hair bands – very simple yet chic. A hair braid is simply a DIY hold that achieves vertical focus. All you need is your hair and some innovative skills. Pulling portions from the left and right sides into a centered crown creates a composed face, not too puff. Not to mention, it is both event-appropriate and casual.
5. Hair parts – now let's be honest, a middle part does not do justice to circular face shapes. It only creates a sloppy appearance altogether. Why not try a side part, a zig-zag; anything but a center division. Get inspired and explore creative ways of drawing attention to your partitions.
6. Pair with dangling earrings – that long neck you've been dreaming of is one step closer with the help of long gorgeous earrings. Whenever your hair is drawn back from your face, long earrings act as filler thus elongating your features.
Related questions
How do I find out the best hair length for my face? – The key is to identify your facial shape. Heavy-set women normally work around round, oval, and heart-shaped faces. Always aim at playing up the strong features and downplaying the not so flattering ones. In case you are not sure about your face-type seekadvice from an experienced stylist or make –up artist. After having established, go ahead to search for hairstyles suitable for your frame.
Do short hairstyles give a less feminine look? – A very short hair cut can create a tomboy semblance but the standard styles are just okay. To increase a womanly touch, accommodate wispy bangs, textured sides, and vibrant hair colors.
Can bangs make you look older? – In and of themselves they should not. Asymmetrical bangs though can make you look younger compared to straight ones. An arc shape is the best. Keep them balanced and proportional if you hope to avoid aged appearances.
How can I maintain my bob shape for longer? – Use your hair's natural tendencies to your advantage. Where does your hair naturally lay? Such points should offer a guideline to your cut. Also, avoid very sharp precise cuts because they will quickly grow back; work with softer blunt edges.
We hope this has helped and be sure to check out our Top Picks for more!