A friend invited you to go surfing or paddleboarding with them, then they told you that you'd need a rash guard. What do you need to know about plus size rash guards before shopping for one?
If you are interested in checking out the best plus size rash guards you can find them on Amazon by clicking here.
7 important points on plus-size rash guards:
Rash guards are swimwear
Your rash guard can be loose 
Avoid unisex rash guards
Rash guards come in many sleeve lengths 
Skip the overlock seams  
High-collared rash guards protect from the sun
Rock a full-body rash guard
Ahead, we'll talk about each of these points in more detail as well as share some great plus-size rash guards from your favorite brands along the way.
Buying a Plus-Size Rash Guard? Keep These Things in Mind
Rash Guards Do Count as Swimwear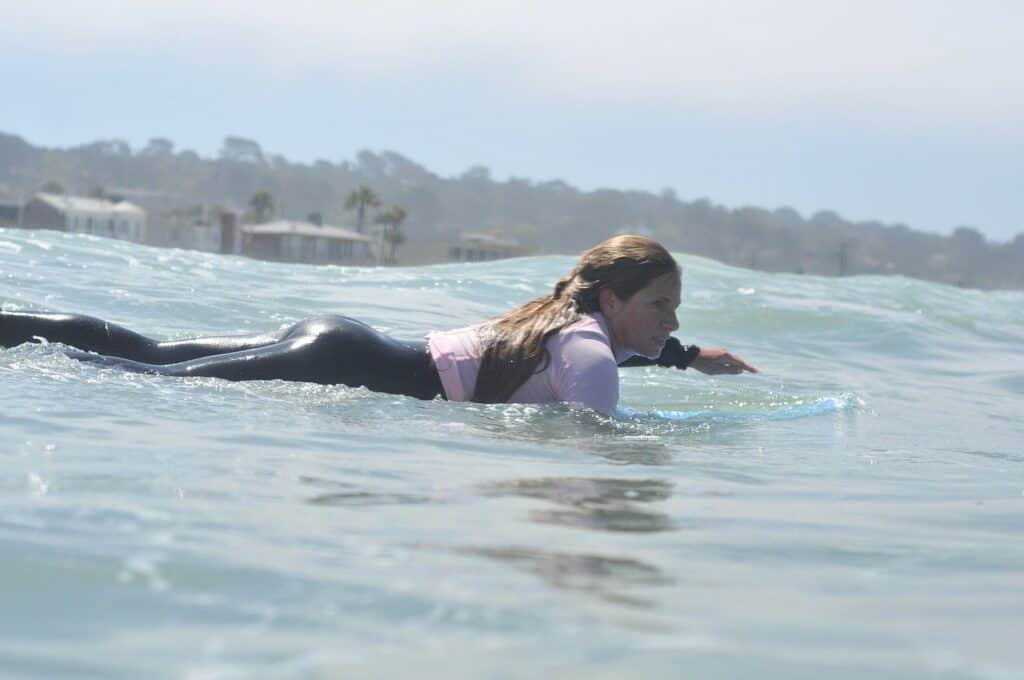 You just can't help it, you love everything about the beach. From the feeling of the sand between your toes, the heat of the sun on your back, and the coolness and rejuvenation of the ocean – you can't get enough.
Okay, so there's one thing you don't quite love about the beach or the pool for that matter, and that's wearing swimsuits. It's just that you have so many areas of your plus-size frame that you feel self-conscious about that it's tough to strut your stuff in swimwear.
While nothing will ever replace unbridled confidence, as you work on loving every inch of yourself, you can wear a rash guard in the meantime. We're serious! Rash guards have become acceptable forms of swimwear, especially at the beach, where you'll come across hot sand and rough waves.
You don't even have to be a surfer or a bodyboarder to get away with wearing a rash guard, so why not try it for yourself?
You Can Buy Rash Guards Tighter or Looser
Some plus-size women may shy away from even rash guards because aren't these garments supposed to be worn like a second skin? If you'd prefer, you can also buy a looser rash guard. This sits on your body much like a t-shirt does, so somewhat loose but also not overly baggy. For instance, this short-sleeved swim tunic from Jessica London is just what you'd be looking for in a looser rash guard.
Made of a mix of creora spandex and polyester, this rash guard is 32 inches long, so it doesn't hang too far down on your body, much like a well-fitting t-shirt wouldn't. It has chlorine resistance and offers sun protection at a great rate of UPF 50+. The split neckline makes wearing this rash guard all day a breeze.
You can choose nearly countless colors, styles, and patterns for this rash guard too. Some of these include blue with palm trees, black with gold foil dots, a red and black tropical floral pattern, and a blue and white stencil leaf pattern.
If you want, you can even go sleeveless with your rash guard, such as with this swim tank, also from Jessica London. It too is chlorine resistant with UPF 50+ protection. The Xtra Life Lycra and nylon of this crewneck 25-inch top gives it a somewhat closer fit, yet its side ruching is flattering.
Should you opt for a looser rash guard, do keep in mind that the extra material might get obstructive when trying to do certain aquatic activities. For example, when surfing (if you do that sort of thing) or swimming, you won't be as aerodynamic as you would be with a tighter rash guard.
Unisex Rash Guards Might Not Work for Curvier Women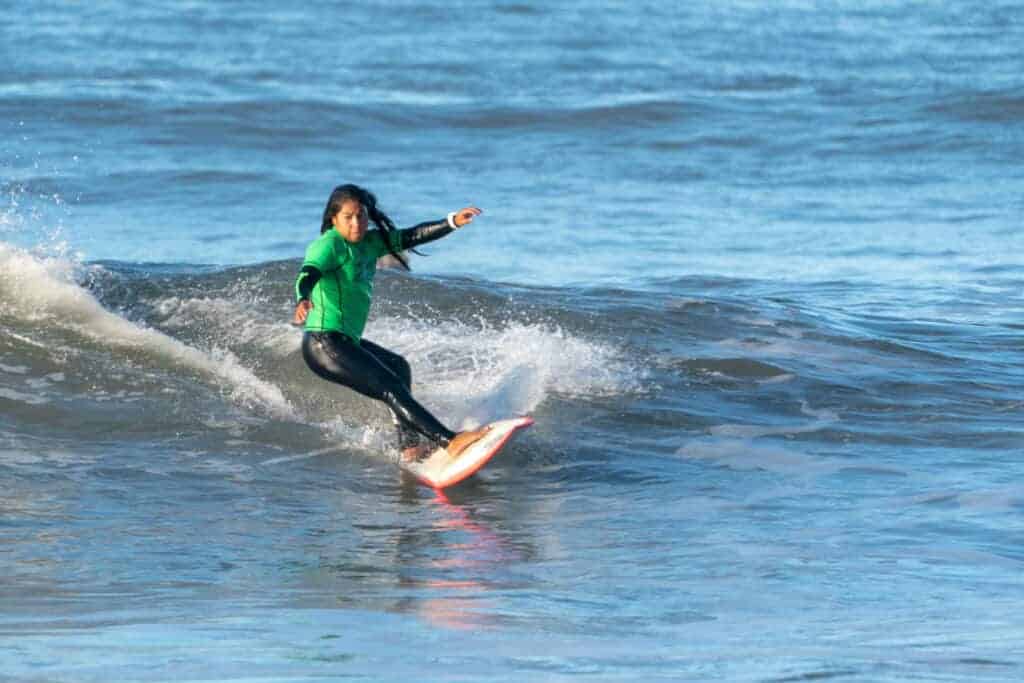 Rash guards are made for either gender, and some are unisex so supposedly anyone can fit into them. This can seem really convenient in the moment, as you can just buy the first rash guard you come across so you can get out to the sea and sand faster.
Yet a unisex rash guard isn't necessarily all it's cracked up to be. Since it's made for neither men nor women specifically but rather both, you might find that some of the features aren't what you were expecting. The fit can also be strange in certain areas, like bigger shoulders yet a narrower abdomen, for example.
Some smaller women may struggle to fit into a unisex rash guard, at least properly. You may also find that the constraints of the rash guard just won't work with your generous curves. Failing to fit can make you feel self-conscious to the point where you give up on rash guards altogether, even though they can most definitely be great!
So please, spare yourself any unfortunate fit issues and pass on the unisex rash guard. On that note, don't assume you'll fit into a men's rash guard either. Sure, this garment will be roomier in areas like the thighs and arms, but the abdominal area will accommodate a straighter torso rather than a curvier, more voluptuous one like yours.
Rash Guards Come in All Sorts of Different Sleeve Lengths
Another cool fact about rash guards is that you have your pick when it comes to the length of the sleeves. The long-sleeved rash guard is the most common, and it's a classic for that reason. Here's another long-sleeved rash guard by BALEAF on Amazon.
This Amazon's Choice rash guard is made of spandex (15 percent) and polyester (85 percent). It zips up at the front, covering your whole chest and some of your neck. The rest of you will definitely be safeguarded thanks to UPF 50+ sun protection.
The raglan long sleeves will prevent sunburns on your arms. Our favorite feature of the BALEAF rash guard is undoubtedly the side ruching with ties on both sides that you can tighten or loosen. When fully loosened, this rash guard can almost be worn like a longer t-shirt. It comes in all sorts of colors too, including heather gray, white, black, royal blue, navy blue, mint green, coral, and fuchsia.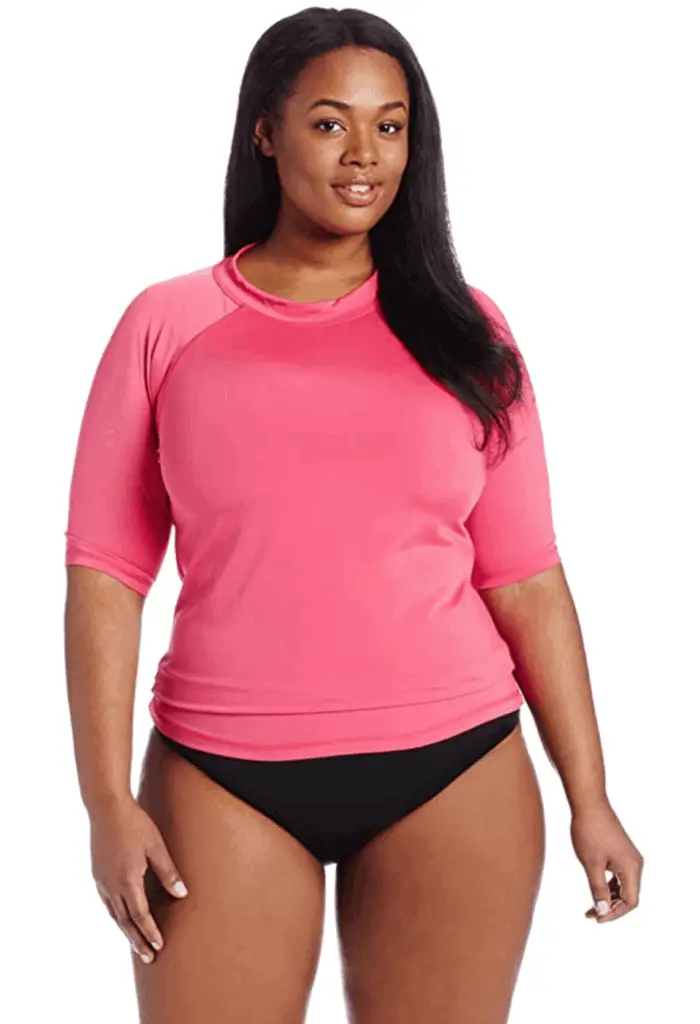 This sleek Kanu Surf rash guard from Amazon is about quarter-sleeved, so the sleeves hit just above your elbow. It doesn't have zippers or adjustable features, but this rash guard does include sun protection at a rate of UPF 50+. It's made of a combination of spandex (15 percent) and polyester (86 percent).
You can order the Kanu Surf rash guard up to a size 3X in an assortment of bright and tropical hues like aqua blue, white, raspberry pink, bright green, or coral.
Rash Locks with Flat Stitching Are Best
As you shop around for the ideal plus-size rash guard, besides the sleeve length, material, and sun protection factor, you also want to pay careful attention to the stitching. Namely, how high-quality is it?
If your rash guard seems a little too good to be true in the price department, that's likely because it's made with overlock seams. What does this even mean? Overlock seams require one to two needles that go through the fabric. The blade of a knife will also cut down the fabric trim while looper threads close off the raw edge.
This may just sound like another means of stitching, and for other garments, overlocking seams are fine. It's just that with a rash guard, these types of seams can rub against your skin all day, chafing you as the day goes on. Once you get wet after taking a dip in the ocean or pool, your raw, irritated skin will just feel worse.
By the time you get home and take off your rash guard, you might see a blister or other severe irritation on your skin. This is no good, as a well-fitting, quality rash guard should never cause your skin to be rubbed raw.
That's why you should shop a little more thoroughly to find a rash guard with flat stitching. This won't rub against your skin since it sits flat against the rash guard (hence the name). Once you wear a rash guard for the day with overlock stitching and then switch to one with flat stitching, you'll notice a big difference!
High-Collared Rash Guards Keep Your Skin Safe
When putting on sunblock, you make sure to cover your face, your arms, hands, chest, stomach, legs, butt, and your feet too. You always get help with your back, but otherwise, you're covered, right? Nope, because you forgot your neck, but lots of people do. That's all fine and dandy until you get sunburn on your neck. It's very painful!
To prevent neck burns, you might want to buy a high-collared rash guard. This will protect much of your neck so it won't fry as you spend hours frolicking on the beach and splashing in the water.
We quite like the AXESEA rash guard from Amazon. This high-necked rash guard is available through size 16. It has flatlock seams so you can avoid chafing, and you now know how important these seams are. The rash guard is made of Lycra (18 percent) and polyester (82 percent).
Even better is that it includes a padded bra with wireless cups so you don't have to feel self-conscious about your nipples poking out if you take a soak in the water. Of course, should you want to remove the padding, it does come out.
This rash guard zips at the back, not the front, and a lengthening cord makes it easy for you to access the rash guard when you want to quickly put it on or take it off.
Full-Body Rash Guards Look Great on Plus-Size Girls
Rash guards as tops are cool because you can buy a loose one and hide your stomach or get a tighter rash guard with a distracting pattern. That's about as far as your comfort level allows though.
If you only buy an upper-body rash guard, that's okay, but full-body rash guards are another option you should consider. It can seem a bit intimidating to wear nothing but Lycra, spandex, or the like, as all your curves will be on full display, but rash guards are a lot more flattering than you'd think.
This one-piece rash guard from Cokar on Amazon comes primarily in black so it's automatically more slimming. Side stripes in hues like purple, sky blue, yellow, or pink will also create a slimming effect. You can even opt for the side panels to be patterned so the eye is drawn towards those patterns.
This pull-on one-piece has UPF 50+ sun protection so UVB and UVA rays don't stand a chance. Cokar even says their rash guard offers support and shapes the body, so you may feel more confident in a full-body rash guard than you ever thought possible!
Conclusion
Rash guards are not to be avoided as a plus-size woman, but rather, to be embraced. You can buy a looser shirt-like rash guard or slip your body into a slimming full-piece one instead. With all sorts of sleeve lengths, collar lengths, price points, and styles, surely the right rash guard is out there for you to enjoy!