Every quinceanera deserves a gorgeous gown for their amazing birthday ceremony. Think of the lights, color, laughter, friends, family, food and yes, the perfect dress! It is every quinceanera's wish that she be perfectly adorned and that her style and poise carry the day. If you are plus size and wondering why picking the right quinceanera dress will absolutely transform your look, read along.
Plus size quinceanera dresses are tailor-made for voluptuous frames. Most incorporate unique features that add body definition, support, and necessary coverage. A majority, tend to add amazing waist definition so that you appear to have a smaller flatter waist and the details on the upper part of the dress tend to help cover up the excess fat or bulging belly you may have. Additionally, underwired or padded brassieres are incorporated in most dresses giving you the necessary support and lift around your bust region. Extra details such as elbow-length gloves or lace sleeved-silhouettes help cover any arm fat that you may be uncomfortable showing. Best of all, these dresses are fun, playful, well-fitted, and exquisite on the plus-size frame.
What is a Quinceanera?
The quinceanera popularly referred to as 'quince' is a widely celebrated ceremony amongst Spanish households. It marks the coming to age of their daughters who upon turning 15 years old are considered to be adults and able to take up more societal responsibilities. This can be equated to the American 'sweet sixteen' parties that have become nearly standard practise in most American families.
A huge ceremony is hosted to commemorate the occasion where both friends and loved ones are invited. Symbolic gifts are offered to mark the 'passage' from childhood into adulthood. The highlight of the ceremony is the 'quinceanera' off course. The newly-turned 15 year-old-girl is adorned in a full-length gown and spots a matching bouquet. Typically, she is required to make a speech, receive gifts and dance. Her special dance 'the waltz' – is performed with a male friend who then passes her on to her father to dance with her also. Given the much attention that is accorded to her, it is only befitting that she dresses up for this once in a life-time day.
The festivities are thoroughly pompous. Guests dress their best, men typically in suits and tuxedos whereas ladies in gowns and beautiful dresses. A notable feature of these ceremonies is there extreme incorporation of vibrant and bold colors. From the gowns worn, décor and the male tuxedos – it's an all-out colorful affair. As much as everyone endeavours to put their best foot forward, it is common practice and 'courtesy' not to 'outshine' the quinceanera. This fosters the silent and, at times, near overwhelming expectation for the quinceanera's gown to be spectacular, to say the least.
The Quinceanera Dress
The name Quinceanera is also used to refer to the gown the girl wears on her birthday. It is designed to be flashy, elegant and bold. For most plus size girls, picking the perfect quinceanera dress can be quite the tussle. There are a countless number of stylish dresses in the market today, but a vast majority of them are tailored for the slender and the 'thinner of the bunch'. However, with the growing appreciation and inclusion of plus size frames, more equally stylish, edgy and flamboyant quinceanera dresses are being churned out. So why should you make the effort to start searching early enough for your perfect plus size dress? Isn't any fitting dress going to turn out amazing? Not quite and here's why.
Different quinceanera dresses incorporate different designs, cuts and styling. These may or may not flatter your body frame. When picking a quinceanera dress, it's not always what you see and like that will suit your body type. A lot of factors need to be considered and weighed into that decision, not just personal preference. Factors such as:
body shape
skin tone
eye colour and
the aura you would like to exude.
Simply picking a design you love, and choosing its plus size, may not be sufficient to find you the ideal dress. You may find that the dress digs into your waist and is unforgiving when it comes to tucking away and smoothening out any lumps and bumps. It may be made of very thin material that has zero stretch in it, thus giving you no breathing space, comfort or support. On the other hand, picking the perfect plus size quinceanera dress will not only flatter your curvy frame but will transform you in the following ways:
1. Make You Look Like a Goddess
Most Quinceanera dresses are designed with exaggerated floor trails, lace insets, puffy A-lines, sparkles, shine, flashy ribbons, ruffles and bows, you name it! These designs give off a mystical, dreamy, fantasy vibe that makes you look like a royal princess. Think of the Disney tales of Cinderella, Snow White or Princess Jasmine, these characters embodied great grace and beauty and have inspired several fashion designs in quinceanera dresses.
Finding the perfect quinceanera dress will enable you to nail that royal, mystical or exotic look you have desired to achieve. You can so perfectly embody a fairy tale goddess or queen and get treated as one. Plus size quinceanera dresses help you play around with designs and details that you typically would be caught dead wearing and that's where the fun is.
The designs and cuts incorporated are exemplary and far beyond 'average' or 'normal'. On this special day, you can walk around with a large wide ribbon bow that extends beyond your frame and still looks and feel stylish, elegant and royal. Your dress is allowed to be extremely shiny and extremely long. The structure enhances your appearance
The structure, i.e symmetry, asymmetry, stitching, draping or flow, the dress has is what really makes the dress fit perfectly onto your frame. It also makes your dress stand out from the rest. With plus size quinceanera dresses, some structures target to optimize various aspects of your appearance. For instance, full-length quinceanera dresses that are partly trimmed at the front, visually elongate you, giving you a taller appearance. Dropdown waist and low waisted bands give the impression of a longer and narrower torso, which many petite girls would find helpful.
A-line quinceanera dresses are more popular. This structure gives the appearance of wider hips for those with smaller ones. Conversely, it tones down very wide and thick hips giving the necessary highlight of your large curves. With this structure, you are still able to look curvy and your upper and lower body proportions balanced. Contemporary quinceanera dresses incorporate slits of various lengths and other sensational cuts such as plunging necklines and asymmetrical 'peacock tail' trail. These also contribute to a more unique daring, flirty, sensual or playful presentation, whichever one you would opt to have.
2. You Get to Showcase your Personal Style
If your quinceanera dress is being tailored for you, you can add your twist to the design and details of the same. Either way, whether buying one or having one made, you get to pick the colour and specific design of your choice. This is key in demonstrating your maturity and individuality. You can get creative and add a few stitches to the gloves or a couple of adornments such as roses, decorative pins and the like to your gown.
Needless to say, the quinceanera dress cannot be worn alone. You get to do your hair, makeup, pick out jewellery and shoes that compliment your dress. This way you have ample opportunity to add a dash of personality to your look for all to see. What better way to demonstrate that you are mature than to add some unexpected yet complimentary detail to your gown, makeup or shoes. You being the focus of the ceremony, everyone will be bound to notice and hopefully celebrate you for the same.
3. It Makes You Bold
Being the host of any party requires courage. However, being the epicentre of everyone's attention throughout a whole day of festivities is a different ball game altogether. As the quinceanera, wearing the 'loudest' gown in the room will require you to be bold enough to handle the constant stares, congratulations and continuous compliments. The case would probably be different if you wore a pair of jeans and a t-shirt to such a ceremony.
Wearing a quinceanera dress will need you to step out of your comfort zone and be bold in your interaction with others. This time you can't dodge away – you have the loudest dress, remember? You learn to be soft but firm, saying no to the numerous pictures your friends want to have with you. You learn to walk with a graceful gait and stride, you learn to smile more and be confident to initiate conversation and receive compliments as the day unfolds.
4. It Helps You Appreciate and Celebrate Your Femininity
Quinceanera dresses are made with great feminine appeal. The ruffles, embroidery, off shoulder, sleeveless or backless cuts project great feminine energy and a softness about your being. These dresses help you get in touch with that 'girly' part of you. In them, you look cute and adorable and likewise feel cute and adorable. Every girl needs to remind themselves once in a while of their feminine beauty.
From trying it on the very first time, to wearing it throughout the ceremony, you feel happy, celebrated, powerful, beautiful and bold. Stepping out of the usual pants and sneakers into an elegant and beautifully embellished dress can make a world of difference in feeling more confident as a lady. You learn to embrace your feminine appeal and this may even convince you to wear more dresses and skirts moving forward.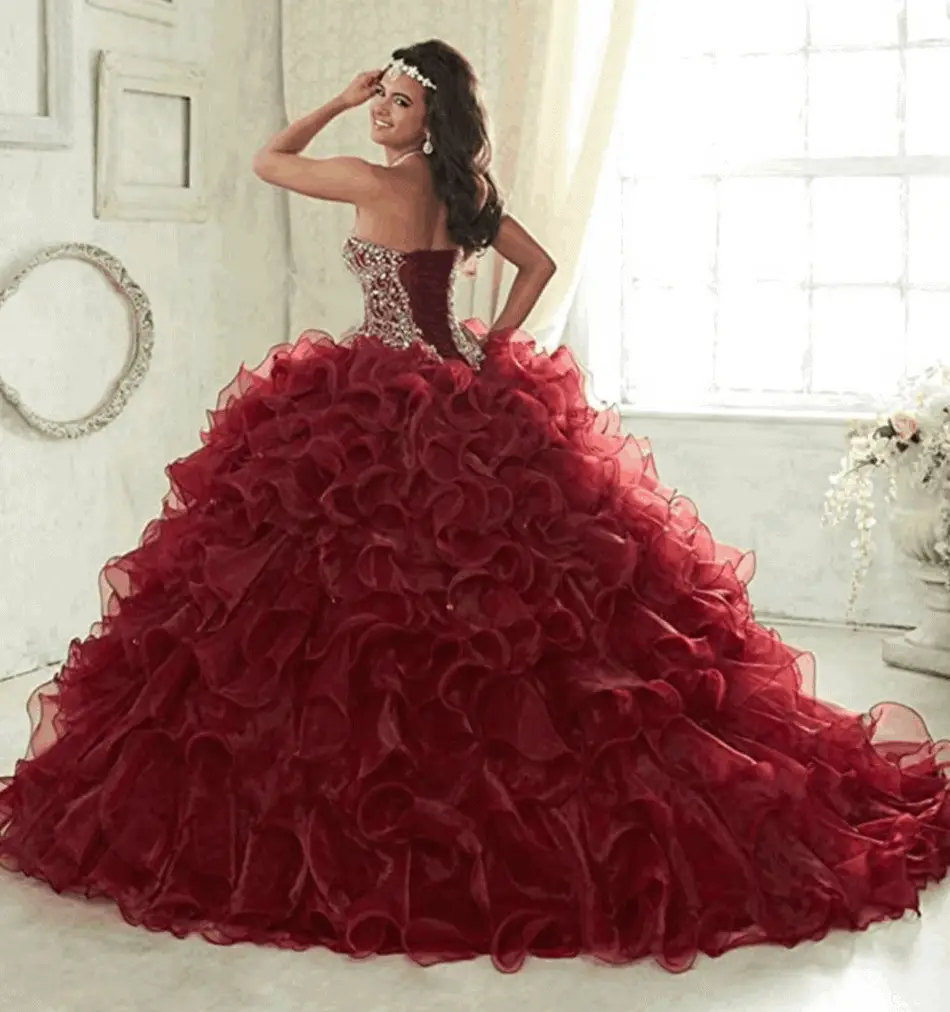 Feeling motivated? As a bonus, here are some suggestions on the best plus size quinceanera dresses that you may consider for your special day:
Final Thoughts
In summary, a quinceanera dress presents a wealth of opportunities to experiment, learn, and to express. You can play around with the dress' structure, pick bold colors you wouldn't normally try on, learn to be bold a conversational and recognize and appreciate your femininity. A quince ceremony is a special day, where all styling rules are re-written and where the fun is in the pompous color, beautifully designed gown, and the presence and laughter of our loved ones. I wish you an enjoyable Quinceanera. Check out some of our other articles related to dresses.