Oxymoron?
The label 'Plus Size Petite', seems quite paradoxical to many women today. The incessant wonder being how one can be both plus size and petite. Is it an actual body size? Or is it some invented, distinguishing term, heralded by smaller-bodied women who deem themselves plus size but not too plus size? If so, why are they deemed plus size in the first place? If you find these and other similar questions a puzzle, read along as we dissect this subject and get to the bottom of it.
Plus size petite was a term coined to bring to the fore the unique physical attributes and fashion needs of women who were both larger and shorter than the 'average' woman. The primary aim was to have designers and brands develop apparel that suited and flattered their body frames or, at the very least, include a sizing option that factored in their unique physiques. Being a plus-size petite woman means that you are full-figured and below 5'3″ in height. For most women who find themselves at this intersection, being both plus size and petite presents an even greater hurdle in shopping for clothing.
Being plus size has enough fashion and clothing hurdles to overcome. It is only until recently that plus size women were celebrated for their large and curvy frames, thus paving the way to greater incorporation of their sizes into the fashion scene.
Today, there is a growing upsurge of several fashion houses, brands, and designers that have developed clothing lines exclusive to the plus-size fraternity. However, unknown to many, there are other groups of women who have perpetually been excluded from the sparkle and glam of fashionable apparel. These women are categorized and lumped together as being 'too tall' or 'too short'.
Commonly, the width and length of a piece of apparel are features that conclusively determine the size affixed to it. Larger sizes are wider and longer, whereas smaller sizes are typically slimmer and shorter. In the US, sizes 14-28 are considered to be plus-size. They are therefore designed to be larger with more room at the bust, hip, and arm area compared to sizes 12 and below. They are also designed to be longer. Therefore most plus-size pants, jeans, tunics, sweaters, skirts, dresses, and every other apparel are longer than that of the average woman, who is estimated to be 5'4″ in height.
This criterion and sizing style has so permeated the fashion industry and discriminately served to mask the unique fashion needs of those who are shorter and still plus size. The erroneous presumption that all plus size ladies are equally tall continues to inform most brands and designers today.
Almost all plus-size pants, jeans, skirts, dresses, and tunics are designed with great length, in addition to a wider leg and arm room. The results have been disheartening to this class of women. Regular plus size apparels that were enviable fits to their large bust and thighs were too long and needed to be trimmed and hemmed in further. Those that were the perfect length were too small in size and could only be found in the 'kids' category.
Being Plus Size Petite
Being 'petite' is understood to mean being small or tiny. However, in the fashion industry, the term petite refers to women who are between 4'11" and 5'3″ in height whether plus size or not. Contrary to popular belief, being petite has nothing to do with being heavy or slender. By extension being plus size petite means that you fall within size 14-28 and are below 5'3″ in height. Surprisingly, scores of plus size women fit into this category.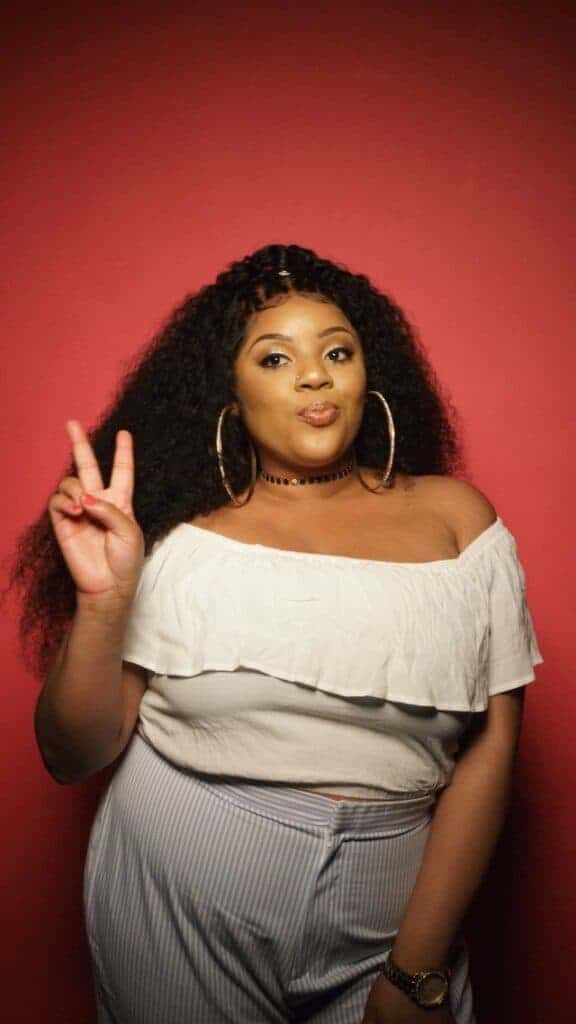 The plight of this fraction of women is not simply the constant need to always hem their newly purchased items to prevent them from sweeping the floor. The inconsiderate lengths of most clothing sold in stores and malls are simply but a fraction of the unthoughtful design and styles offered. A myriad of other issues present themselves as most plus size clothing options on one hand, and petite clothing options on the other, seem to overlook the interplay of these women's fashion needs.
Notably, the remedy is not providing shorter options to plus size pants, or increasing the sizes of petite-sized blouses or tops to allow more room for a larger bust and wider belly. Before we delve further into the discourse, here is a run-through of some of the unique body features of plus size petite women that you would need to appreciate. They have:
Smaller shoulders
Shorter arms
Shorter torsos
Shorter legs
Differences in Fit and Styling Options
1. Plus Size Regular
Depending on the type of clothing and brand, a majority of plus size styles focus on optically slimming the midsection, thighs and bust region. Therefore some of the best plus size designs utilize features such as ruching, draping, waterfall designs, asymmetrical cuts, umpire waists, thick waist belts and the like. These are strategically placed and incorporated into the attire to distract from the belly area, downplay one's wide hips and butt and emphasize other features such as legs, arms or the neckline.
As for the fit, most well designed plus size clothing avoid super-tight fits and opt for spacious (but not oversized) straight cuts that can give maximum comfort to the wearer, and do not dig into their skin. This fit also helps in concealing the excess fat around their body parts.
2. Plus Size Petite
This size of clothing aims to downplay any excessively large or fatty areas AND to visually elongate the individual. It offers a proportional form of tailoring that takes into consideration the general short proportions of a petite frame and its implications on the overall appearance and structure of the apparel. In terms of fit, plus size petite options offer cuts and designs that are different in the following ways:
i. Higher Armholes– this is particularly so, since most petite women don't have long torsos, thus their arms appear 'higher' up their frame.
ii. Shorter blouses and tops – this takes cognizance of their shorter torsos. A regular plus size t-shirt or top, designed to sit on the hips of an average height plus size woman will instead loosely skim over the hips of a petite woman and thus overwhelm their frame.
iii. Shorter sleeves – Despite the perfect fit of the blouse on you, having longer sleeves gives off the distasteful impression that the blouse is 'too large'. With this in mind, plus size petite fits have the sleeves measured proportionately to the average petite frame and thus fitted for their shorter arms.
iv. Shorter inseams – Similar to shorter sleeves on arms, the inseams on pants help them look custom made and well-fitted for the petite frame.
v. Higher knee caps – You can't alter the knee cap area and thus your pant's knee cap impressions will sit lower than your actual kneecap. Since petite people have shorter legs this essentially translates to an appearance of a 'higher' placed knee cap. The plus-size petite sizing option, factors this in and designs pants, and jeans with 'higher' knee caps, making it a custom-fit for petite women.
How to Know If You Are a Regular Plus Size or a Petite Plus Size
There are so many variations of the human body and thus the answer may not be as straight forward as we would hope. If you are between 4'11" and 5'3″ and wear plus size apparel you should consider shopping at the plus-size petite category the next time you shop. You may be amazed at how well the clothing fits because it was tailored with your exact body shape and frame in mind.
This does not mean that if you are 5'4″ or taller, you should never consider the plus size petite category. If you happen to share some of the features that petite women have, for example, your shoulders are considerably smaller or although you are relatively tall, you have shorter legs in comparison to the length of your torso. In these two scenarios, you can opt to purchase tops or pants that are labelled plus size petite and see whether they fit better.
However, just like any other rule, there are exceptions to each case. You may just happen to find exceptional fits and styles in the petite category as a regular plus-size woman. Keep your options open, when shopping online, spare a minute or two, and see whether you can stumble on something that may tickle your fancy.
Bear in mind, most plus size clothing comes with some stretch to them and thus can fit snuggly on a range of people. This may just be the case for that sweater or tank top you spotted in the plus-size petite section. Just make sure you carefully read through the size chart and ascertain whether it would fit and flatter your body.
If you have considerably wide and long features such as wide shoulders, long torso and very long legs, it would be preferable to stick to the regular plus-size category. With the recent wake of plus size fashion, you are definitely going to find elegant clothing for your size. You can also consider browsing around categories that provide apparel for taller women and you just might be in luck! A considerable number of taller women have substantially wider shoulders, longer torsos and longer legs than the average woman.
Smart Shopping for the Plus Size Petite Woman
Being petite comes with the challenge of decreased 'room' to play around with. This is not unfortunate, as the hurdle is surmountable. The best fashion tip to all petite people is to keep your outfits precise and to the point. Each piece in your fashion closet should contribute in striking the delicate balance between your height and body size. If you are wondering where to start, here are 5 tips you can incorporate.
1. Structured Clothing
Pick pieces that give adequate definition to your frame. Have a structured jacket with defined shoulder-sleeve cuts. Pick sweaters that have details around the shoulder region to give an impression of wider shoulders, which makes your upper body more proportional.
Instead of a shapeless flowing duster cardigan opt for a well structured, defined or preferably belted overcoat or top.
2. Hip-length Tops
Look for items that elongate your frame while highlighting or concealing the areas you want. Your tops should end just above the hip area. If longer, you may run the risk of appearing shorter than you are. If you do not find the right length of top, perhaps because you are considerably short, purchase a well-fitting size and visit your tailor to adjust the length of the blouse to your exact specifications.
3. Opt for Leaner Pieces
Having multiple layers will add bulk to your frame thereby making you look larger and also shorter. Leaner pieces are less voluminous and when mixed and matched correctly, can make you look taller and slimmer. For a more elongated look, you can pick monochrome outfits.
4. Stripes
These are your best friend. Whether bold or mild, stripes look classy and are timeless when it comes to office wear and even casual outfits. Opt for vertical stripes as opposed to horizontal stripes. Vertical stripes will give the impression of a taller and synched body frame, especially at the belly area, whereas horizontal stripes will give you the exact opposite, especially if the stripes run all through all your items of clothing.
Final Thoughts
Being plus size and petite should be worn with pride. This is not a mere blanket terminology given to faceless women but is an actual identity of a considerably large though neglected demography of women. Even as the fashion industry evolves to be more size and height inclusive in the various brands and fashion outlets, you still can look stunning. Awareness is the first step, ascertaining your actual body size category will help you shop wiser and pick out pieces that flatter and complement all your body features. Be sure to check out our top picks for more fashion options that fit you.