Pajamas! Who doesn't look forward to unwinding to a cup of tea or a delicious meal at the end of the day in their favorite PJs? That cozy and soothing feeling when you drape them on and are tucked into your favorite blanket for a nightcap or to watch your favorite TV show. There are innumerable types and designs in the market today, the versatility is useful though it may be overwhelming especially for someone trying to find the right pair. Fortunately, I have a list of the 8 greatest plus size PJs.
Finding the right plus size pajamas to sleep and lounge in is paramount to any relaxing and calm mood you would like to set in. It all starts with appreciating the various Pjs that cater to the special needs of plus size frames. Of course, your selection will be influenced by the prevailing season, your budget, sleep habits, and personal preference of style and cuts. However, specific to plus size frames, your pick of pajamas should have enough stretch in them, snug waist, elastic bands, thus no restraint whatsoever when putting on and enough coverage.
Pyjamas are indeed a delicate and sensual part of our lives and leisure. Due to the several designs for plus size frames that have featured in the women sleepwear market, you no longer have to worry about finding a set that you like and fits right.
Our 8 Plus Size Pajamas You Will Absolutely Love
1. Alexander Del Rossa Women's Warm Flannel Pajama Set, Long Novelty Button Down Cotton PJs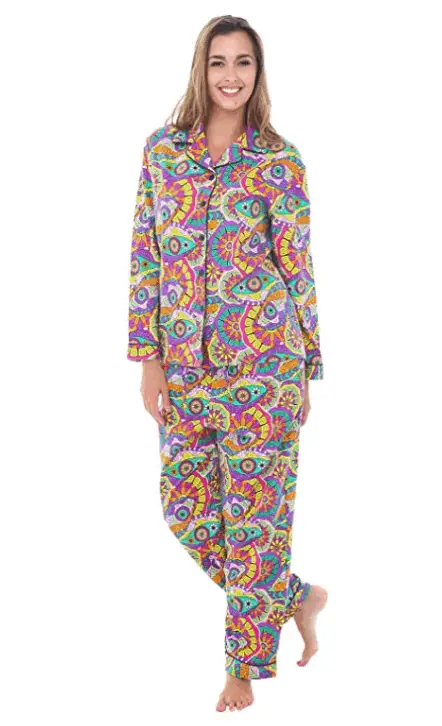 Flannel Pajamas continue steadfastly as one of the best selling and favorite pajamas pieces for both young and old. This particular pajama from Alexander Del Rossa comes in 6 different flannel prints of beautiful plaid colors and prints such as stripes, polka dots, teacup and mug prints, etc.
This pajama comprises of a lightweight flannel material that is made of 100% cotton. The best thing about this pajama is that the fabric is pre-shrunk, therefore it will not shrink when tossed into the washing machine. It comes in sizes S to 3X Plus. You can check out all of the patterns on Amazon, here.
2. Plus Size Long Sleeve Notch Collar Top Pajama Set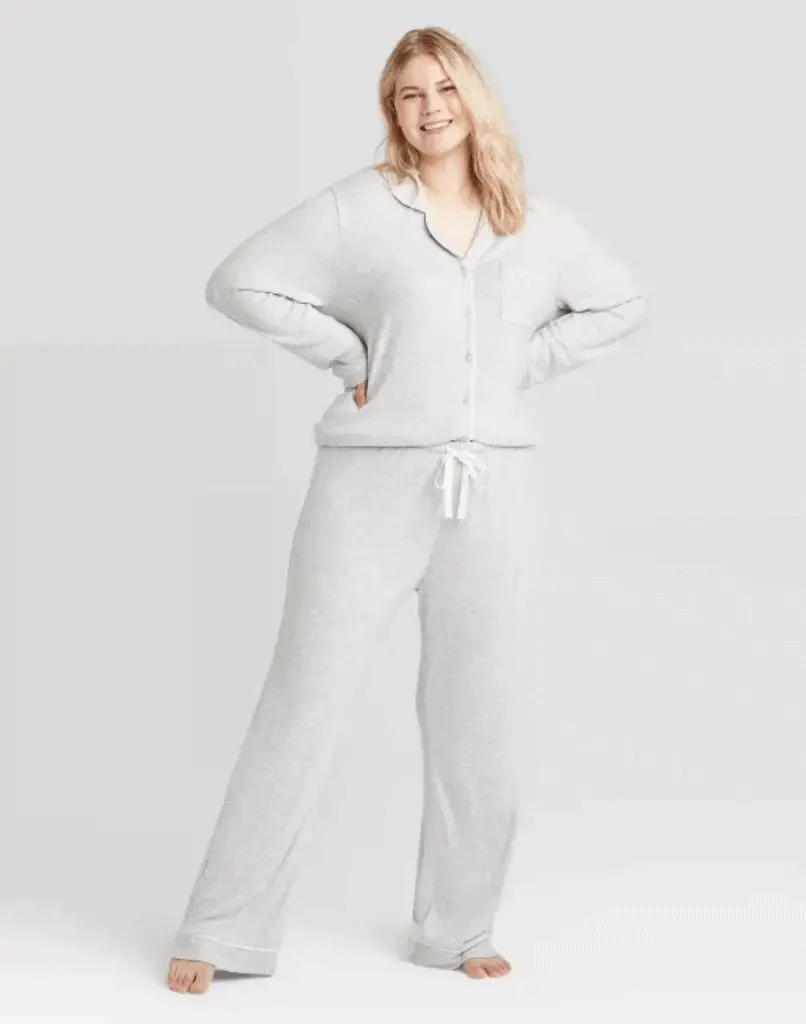 This long-sleeve button-down pajama is from Target and is absolutely soft and cozy to be in. It has a very relaxed and laid back look, which makes it fun, simple, and stylish for a night gear. The set is made up of flexible, flowy material and has great cuts and neck design. It is not too heavy or too light and thus can be worn all year round.
The fabric material is great and does not fade away even with repeated washes. It is made up of 95% modal and 5% spandex. The spandex guarantees great stretch and perfect fitting. It has a full waist elastic band to ensure that it securely sits in place.
This Pajama Set comes in 3 colors namely black, light grey, and a purple floral print. You can shop for it a Target, right online.
3. Silky 2-Piece PJ Set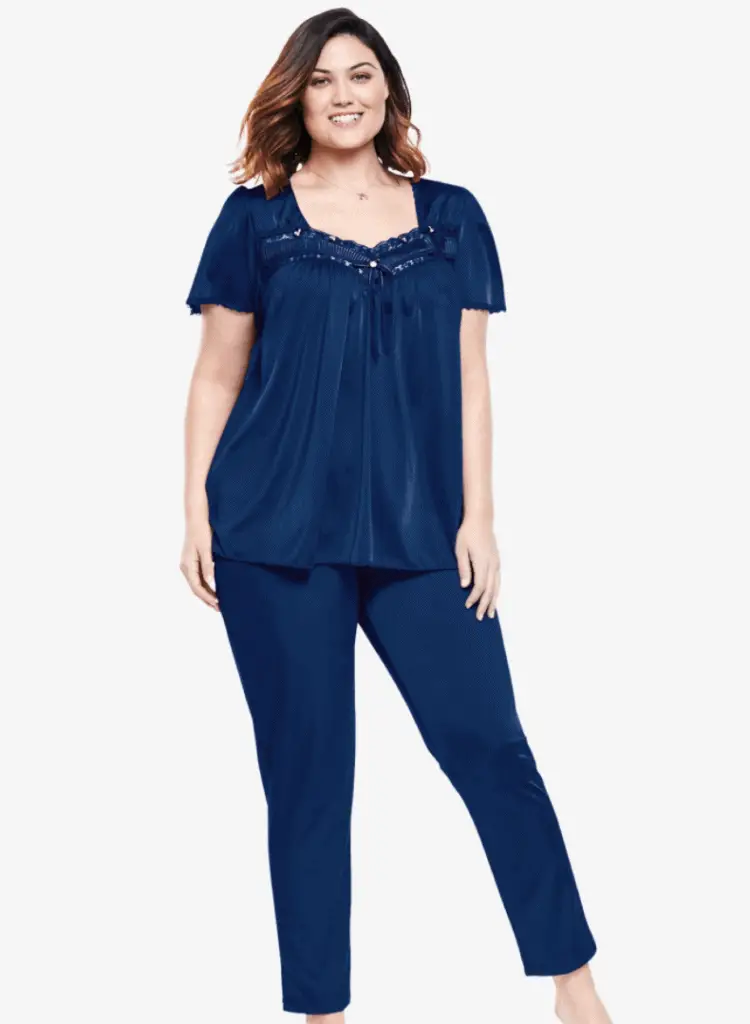 The pajama's design is very thoughtful and goes a long way to make the piece ideal for the plus-size woman. The top has a detailed design that incorporates a small ribbon at the base of the neckline, which softly highlights your chest area. It then has a flowy waterfall design that works wonders to hide any bulging tummy and make you look curvy.
The pants are slender as opposed to the more common flabby and loose designs of most pajamas. They add structure to your lower body, making you look more appealing. The pant cuts are in such a manner that they are not tight and do not roll up when sleeping. The set comes in 11 colors ranging from various shades of blue to pink, purple, teal, black, rose, and even banana! To purchase it, hop over to Jessica London.
4. AvidLove Women's Shorts Pyjamas Set Short Sleeve Sleepwear Nightwear Pjs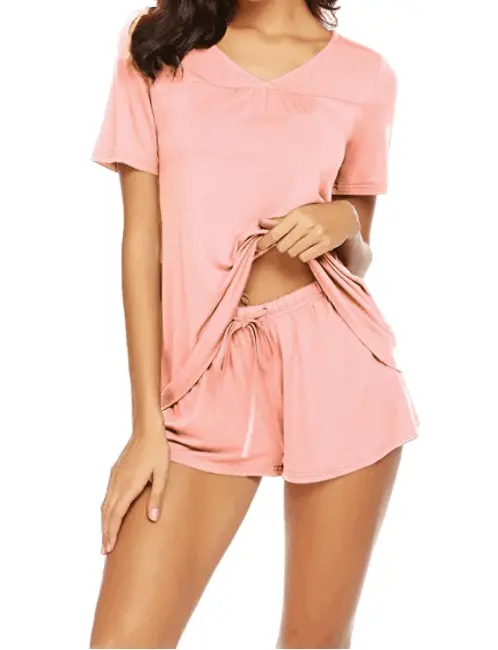 If you are into pyjama shorts, you will enjoy this pyjama set. The AvidLove Shorts pyjamas are soft to the skin and additionally highlights your legs and flatter your thighs. It comes in size S up to XXL. The material is flowy and light which is great for summertime or if you tend to heat up a lot during the night.
The set comes with a wide array of color variations of an astounding 20 colors. You can opt for the adorable pink or white leopard prints, unique blue and pink combinations, or solid colors such as black, red, light grey, light blue, light purple. The top is a classic V neck and the material extremely breathable, soft and flowy. The shorts have a full waistband and sit higher up your waistline. You can find this set on Amazon.
5. Graphic Tee PJ Set by Dreams & Co®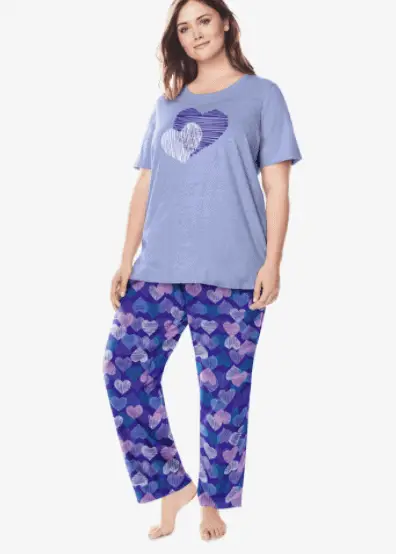 This design includes a wonderful flowy sleeping t-shirt with adorable custom messages and funny punchlines. Have fun wearing your heart on your sleeves literally. With phrases such as 'Follow your dreams' or 'never stop dreaming' and my favourite 'don't stress meout,' you can be sure to stand out and let your t-shirt do the talking for you. The set also incorporates delightful art and images of various animate and inanimate objects. The design is simple and clean.
The pants have the contemporary crop design that makes it look stylish and also relaxed to be in. If you are not into the mix and match vibe, this may be an endearing piece. The t-shirts are predominantly of a solid colour whereas the pants have various print styles and unique colour themes such as sapphire hearts, paisley floral, heather grey dream.
These PJs come in medium size up to a 6X (42-44) and can be found at Jessica London.
6. Plus Size Amazing Mother Pajama Tank Top and Shorts
This is an amazing piece custom made for mothers. It consists of a razorback tank top that is stretchy and flowy and a pair of shorts. The tank top is scoop neck and has the very inspiring writing/graphic 'amazing, awesome intelligent, happy beautiful marvellous MOTHER'.
The shorts are of solid color with a distinguishing trim along its curved hem. The set comes in the colors purple, pink, and blue. The material is extremely soft to the skin and comfortable to be in. This set comes from Rainbow Shops and comes in different colors too!
7. Angelina Women's Cozy Fleece Pajama PJ Set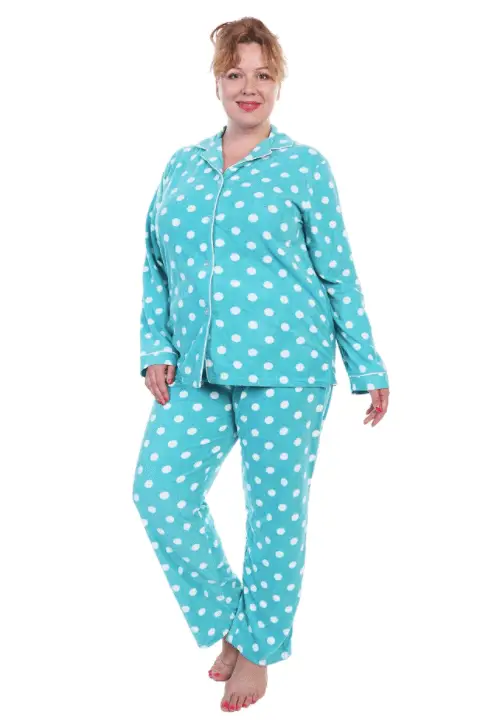 Fleece pyjamas are an absolute necessity when it comes to cold winter seasons and very chilly nights. The Angelina Fleece Pajamas is acclaimed for being soft, and plush to the skin. It is made up of 100% polyester designed with long sleeves, drawstring and 2 front pockets on the pants.
This fleece pajamas come with over 20 different prints and has sizes up to 2X Plus. It is machine washable and retains its color and plush appearance even after several washes. Check it out on Amazon.
8. U.S. Polo Assn. Women's Short Sleeve Shirt and Long Pajama Pants Sleepwear Set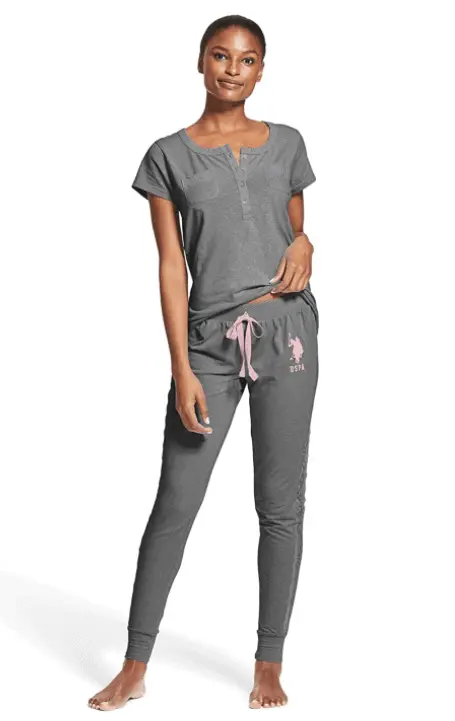 This pajama is one of the cheapest and softest in the market. If you love sweatpants, these pajamas incorporate an extremely soft pair of pants and a coordinating short sleeve flowing top. This US Polo Assn pajama set comes in 3 colors namely mint heather, charcoal heather, and Georgia peach heather. It is lightweight, has pockets, and gives you considerable coverage. Its top has a simple half button-down design while its pants are simple and plain colored. The set has a very relaxed and casual theme and can be used as loungewear. It has been voted as Amazon's best soft and comfortable women's sleepwear. To grab your own set head over to Amazon.
Final Thoughts
The quality and fit of your pajamas greatly determine the quality of your sleep and ability to relax. Take some time to consider the above list and pick what works best for you. If you're looking for other great nightwear, check out our article on plus size nightgowns. Being comfortable after a tiring day of work or school is paramount and I'm glad it can now be a daily reality for you.