When Kimonos burst onto the fashion scene, many wanted a taste of these sophisticated yet playful garments. It is no wonder to date they remain a timeless fashion statement. Their structure uniquely thought out, and to add on lavish prints and patterns that are just but a glimpse of the benefits a kimono has to offer.
If you are interested in checking out the best plus size Kimonos you can find them by clicking here.
Plus size kimonos embody beauty and class all in one. In case you wondering what makes them so unique, it's hard to say because the gowns encapsulate plenty of rich attributes. From the dyes, seasonal embroidery, to the design, all of these unique elements add up to the beauty of the final piece. As is evident, versatility is one of its outstanding trademarks. Not to mention the styling flexibility associated with these garments. It truly is a one-piece wonder!
Get to learn the mind-blowing culture surrounding the kimono jacket and how it has evolved into the dashing designs we see today. And are you wondering how to best rock this look? See all the unique ways you can ensure that your plus shape is flattered. More on the styling hacks will be shared too!
For some grounding, let's kick off with the origin tales of the kimono.
The History and Evolution of the Kimono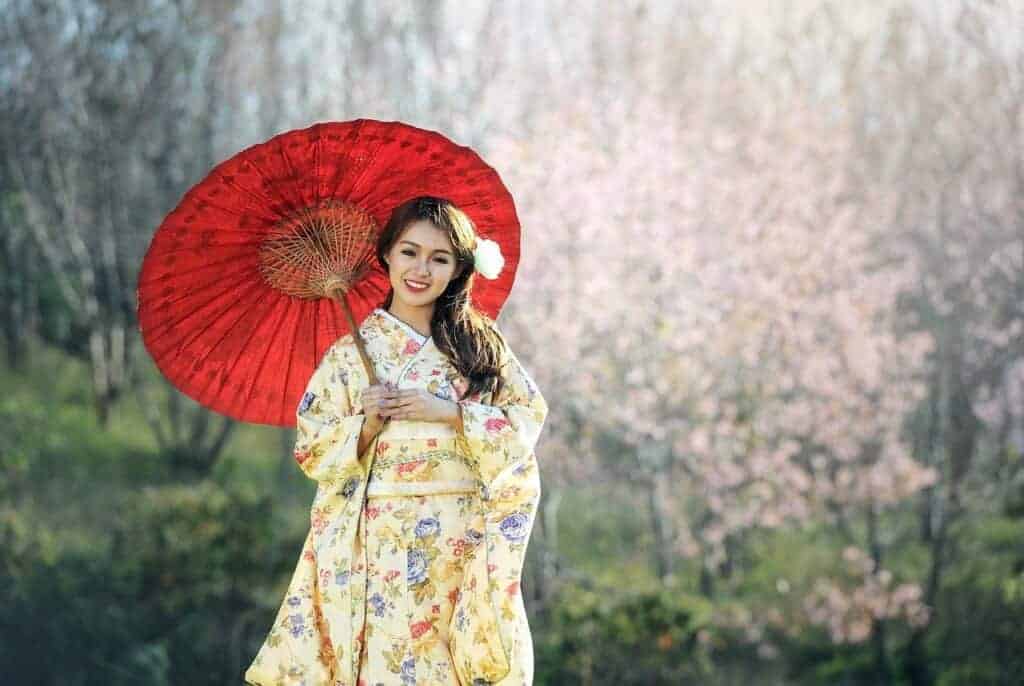 Kimonos date back to about 1000 years in the Japanese culture. The robe was crafted as a symbolic expression of many things including the seasons, humane virtues, wealth class, and so on. A single gown could therefore communicate several messages pertinent to the Japanese way of life. The colors too carried significance. Purple for instance represented undying love. This is because the plant from which this dye was extracted had very long, sturdy roots.
As tradition had it, single women and the married wore different kimono styles. The unmarried had their sleeves very broad and long almost touching the floor while the others had much narrower sleeves. Essentially, a kimono was meant to make a woman look her best and as such, it was accessorized with much precision.
The obi was the crown of it all. Designed to act like a belt-like addition, it made the cloth look even more gorgeous. Flowing about 3 meters long, this sash took to different tying techniques each of which carried special connotations. Now the kimono initially was the standard way of dressing, even for men as well.
It took to a simple "T" structure which was assembled using only rectangular fabric pieces. Translated, it means "something to wear" – that's how common the robes were back then. People of the samurai tribe popularized the look amongst young and old back in the 17th century but it was not up until the Geisha age that the kimono art was seen in its full regalia.
The Geishas are a group of women given to the life of arts. They perform dances, tea ceremonies, and play instruments, all of which take years to train. Their dress code is the kimono and it can get as heavy as 10 kilograms. Their graceful performances coupled with antique clothing spun the fame of the kimono a notch higher.
Today, thanks to Westernization, kimonos have evolved from bulky clothing into light wear; its previously heavy interior linings and textiles were replaced. By the 20th century, much compact sleeves had become common and fresh designs cropped up amongst a new generation of women. However, their beauty was far from compromised.
Reasons Why the Plus size Kimono will Change Your Mind
Ladies skeptical about rocking a kimono, perhaps an in-depth look at all its features will get you thinking differently. Here is why you should own a pair or two of these fashion-forward robes.
1. Vibrant Themes
A kimono in itself is a statement piece. Think of all the multi-colors, deep blues and tropical shades, fused with amazing patterns that you can enjoy. I mean, how many singular items can upgrade your look in an instant? Not many. You would probably have to work with several clothes to arrive at an ideal outfit. And even that, you risk the probability of coming off as overdressed. A kimono goes a long way without trying too hard. Throw it on and immediately witness the difference. Plus if you're the kind with a preference for subtle undertones, there are still options to choose from. Whatever your taste, there will be a kimono to go along with it!
2. Vintage yet Modern
Drawing from its history, a kimono carries so much more than style. It's the cultural storyline that adds to its overall attractiveness. Think of it like traditional wear infused with a healthy dose of contemporary. The cuts, silhouettes, all are carefully thought out and designed to depict the history of a people.Therefore the next time you wear a kimono you get to relive the Japanese ancient customs but with a stylish twist. More like an urban Geisha. It doesn't get better than that!
3. Works for all Body Shapes
Kimonos blend in effortlessly regardless of figure or size. You have little to worry about fit when shopping for a kimono. Bigger women particularly look more flattering owing to wider hips. A kimono jacket naturally has a flowy silhouette that drapes over the feminine frame. Being that it is designed to have a loose fit, it somewhat conforms to your body highlighting some of your best features. Big or small, this is one of the rare few robes that can amplify while at the same time complement your physique. It's a win win!
4. Styling Versatility
You can play around with a kimono jacket to achieve multiple different looks. It all depends on your creativity! With so many ways to wear it, there's just about nothing you can't do with this robe. I particularly enjoy randomly tying different knots and watching the creative process unfold into distinctive styles-like in the following video.
And when you're in a rush or have not the energy to assemble a unique pattern, simply throw on your kimono as it is and strut along! It never gets old. Bottom line is, the same kimono can be worn countless ways yet still garner rave compliments each time! Do you like to experiment with clothes? Grab your kimono and stir your creative juices!
5. Customizable to Your Taste
I love the fact that overtime kimonos have progressed into more practical clothes. Traditionally, they were limited to full-length robes so long at times they would touch the floor. Different kimono manufacturers still uphold this form but, in the modern-day, fresh designs have emerged.
Whether you prefer your kimono right above your ankle or a bit higher to your mid-thigh or even your hips, there are lots of lengths to choose from. Different lengths obviously work better depending on the weather. For instance, hot days would require shorter kimonos as opposed to winter however, you are at liberty to select whatever best reflects your inner style.
Same case with the fabrics. You could opt for silk, chiffon, or sheer like material, or better yet have a collection of all three for more versatility. Kimonos are quite flexible and tailored to suit your needs.
6. Doubles up as Formal and Non-formal wear
Talk about a whole personality! When you need something flashier than a trench to show up to work with, a kimono is the answer. And when you want to spice things up for a late-night party- it gets the job done as well. As long as you know how to put two and two together with reference to your outfit's color palette, you can get away with a kimono look in whatever setting. Owing to its popularity, kimonos have become cheaper and hence more affordable. You can easily access them from your local shopping mall without the need to break the bank.
This plus all the above traits hopefully get you seeing kimonos for the splendor they truly are.
How to Wear a Plus Size Kimono
Beach cover-up– during those sunny days that leave you yearning after some cool ocean breeze, pack your kimono and get to enjoy every camera moment. Besides, they are so light you barely need any space to squeeze in a couple of pairs. You could be sipping on some cocktail drinks or simply sun-basking out on the shore, whatever the activity, a kimono certainly will spice things up! And for girls a bit cautious of those lumpy body parts, a kimono provides a light cover-up to boost your confidence. You could slip it over your swimsuit or booty shorts and go about feeling your best self yet.
Loungewear – we all like to cozy up to some comfy, free-fitting clothes after a long day's work. Well, the good news is you can switch up your baggy pajamas for a sensual look that will leave you feeling sexy! The soft velvety materials especially work best on such occasions as they are breathable and featherweight. Better yet, slip into a cute lingerie pair and have your kimono loosely over – cheeky and playful!
Maxi dress- Longer kimonos multitask as complete wrap dresses when worn individually. You might want to go for a kimono with a matching belt to pull off this look. They flow all the way down gliding over your curves while simultaneously cinching in your waist for an hourglass frame. All it takes is a cute pair of shoes to complete the look. You can never go wrong with a classic kimono maxi.
As a Shirt- when cardigans don't just cut it,why not get creative with your kimono? Tie a center knot, kind of how you would with a blouse when aiming for crop effect. Have a cute cami on the inside or maybe a tank top, some shades to add some oomph and you're all set. This is an ideal look for summer, not to mention colorfully stunning.
In layers- like I said, you can go to any length with this antique wear, and just to prove it, how about pairing two kimonos at the same time? Of course, it takes a bold attitude to successfully rock clashing prints, but it sure is worth the try. Use one kimono for a skirt while the other works as the shirt. But most importantly, mix up the prints and patterns wisely.
Own it- part of looking gorgeous means exuding the right energy to go along with your outfit. And this shows in your walk, your aurora, generally how your carry yourself. It's one thing to look good but an added advantage when you know you look good. So get into the room and own it!
How to Style a Kimono Jacket
1. Dress it up- a kimono is flexible enough to adjust to any occasion theme. Instances where you might want to dress up say work or perhaps a late-night dinner; either one will go well with a statement dress, strappy sandals, and a cute clutch. Being that the kimono already has a loose fit, a body con dress would work perfectly. Remember to bring on some classy earrings too and a killer smile.
2. Dress down – for less formal events like a brunch date with friends, you can go easy but remain chic. Grab a classic white tee, pair it with boyfriend jeans, finish off with some laid back flip flops and there you have it. For extra detail, pick out a custom belt and a sun hat. Even casual looks are never dull with a kimono wrap.
Tips
Choose a flattering Kimono that will go well with your skin tone.
Tall, plus size women look particularly graceful in maxi wraps.
A turban wrap accessorizes the kimono giving a gypsy, bohemian appeal.
Don't be afraid to experiment with different styles.
Conclusion
Plus size kimonos afford countless benefits when put to use correctly. The important thing is to keep an open mind and be willing to move from your comfort zone. Judging from its design, nothing measures up to the beauty, versatility, and practicality of the kimono. An everyday item that can upgrade to elegant wear in a matter of seconds! If you're for something similar just to rock around the house check out our article here.
Recent Content