When the time comes to dimming the lights, putting on some mood music, and slipping into something a little more comfortable, what do you wear? You're not limited to only body-obscuring babydolls or bodysuits as a plus-size woman – far from it. If you're going to be buying lingerie, you need to be geared up for success!
Tips for finding the perfect plus size intimates
Set a budget
Choose your style
Get measured/fitted
Go to the store if possible to inspect fabrics and materials
Try on everything
Don't be afraid to go outside of your comfort zone
In this extensive guide, we'll walk you through the above 6 tips so you'll be armed with all the information you need to have amazing plus size intimates you'll be proud to show off!
6 Tips for Buying Plus-Size Intimates
Have a Budget
You can walk into one store that sells lingerie and find a bra for $60 and then browse around online and stumble upon a retailer specializing in bras for upwards of $200. These intimates are usually made of premium European fabrics and include decorative touches like rhinestones, chains, lace, or ornate straps.
Of course, you're not just buying a bra, but a whole set of lingerie, including panties, a garter belt, and maybe even more pieces. Thus, to prevent yourself from blowing through a lot of money on only one set of lingerie, you'll have to make a budget.
How high your budget will be is up to you, but we'd caution against setting it too low. A cheap bra may sound like a good idea at the time, but it's typically made of equally inexpensive materials, so it will fall apart after a few uses. Also, if you're one of those gals who wear lingerie under an outfit all day to feel empowered, you'll find your cheap stuff is very uncomfortable.
We'd recommend a budget of at least $100, but ideally twice or thrice that if you want a really good set of intimates.
Pick a Lingerie Style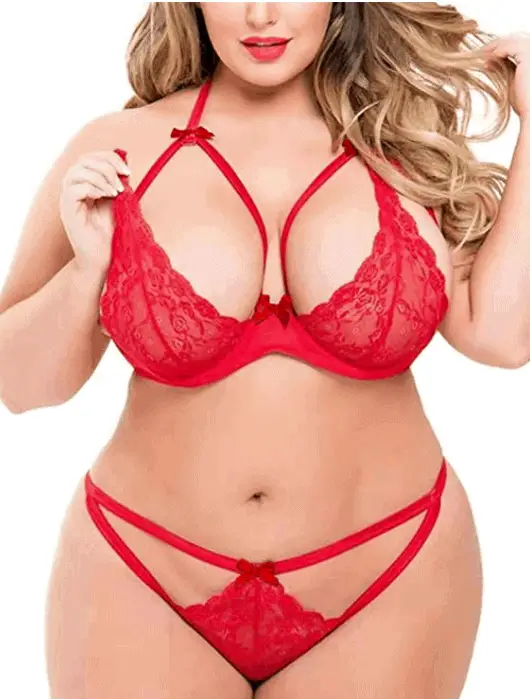 With your budget set, it's time to navigate the type of intimates you're looking for. Starting with bras, you can buy one in a strapless style, a triangle bra, a dressy plunge bra, a molded bra, a balconette bra, a bralette, or a full-cup bra. Some bras can boost your cup size, which you might not prefer as a plus-size woman, so shop carefully.
If you want a bit more coverage than what even a bra offers, you can shop for a flowy babydoll, a camisole top to be worn with panties, or a chemise, which is like a longer babydoll that's sometimes a bit more form-fitting. You can also try a chic bodysuit, which yes, you can totally count as lingerie, or a corset and bustier. 
As for your bottom half, panty styles include chic boyshorts, bikini brief panties, and thongs. If you want a garter belt, you can try a waist-cinching variety for a flattering fit or a barely-there suspender belt.
Yes, that's a lot of options we just threw at you. We recommend you look into each lingerie style and make a determination of what you think you'd like the most. You may find that once you begin trying on some intimates that your opinion changes, and that's okay.
Also, at this time, you might make amendments to your budget, either slightly increasing it or even decreasing it depending on the type of intimates you select.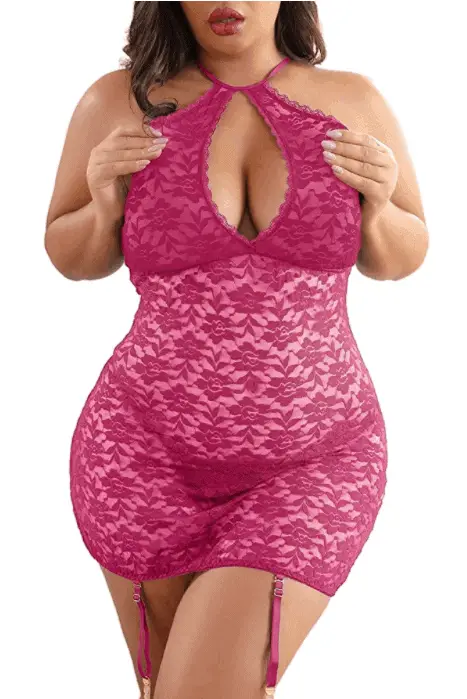 Get Measured/Fitted
When was the last time you got fitted for a bra? Or for underwear? If the answer is years ago for the bra and never for panties, then that's your next order of business.
Even if you have gotten yourself measured and fitted, if it was at least a year ago, then it doesn't hurt to do it again. Your measurements may have fluctuated slightly, and if so, you need to take that into consideration. Otherwise, you'll buy lingerie that doesn't fit, and that's always a bummer.
We'd always suggest going to a lingerie store and getting professionally measured if at all possible. However, we also know that sometimes you can't always do that, whether you can't find any stores that do measurements near you or you're having a hard time mustering up the courage to go.
In either case, you can do some basic measurements of both your bra and panty sizes at home with some flexible measuring tape and a second person.
When measuring for a bra, first, you need to know your band size. To do this, have your measuring buddy wrap the flexible measuring tape around your midsection right under your breasts. Ask your buddy to pull the tape tightly, not to the point where it's digging into your skin, but where it fits firmly.
Then, take whatever measurement you have and round it up. You also want to add a number to the measurement, five for an odd measurement and four for an even measurement. This tells you the band size for the bra.
Next, you need to figure out the cup size. You'll need to know the size of your bust for this, so have your measuring buddy pull the measuring tape around your breasts, right where your nipples are. This is the part of the breasts that are the fullest. Again, you want your buddy to wrap the measuring tape firmly around you, but not to the point where the tape is pushing into your breasts.
Take your measurement and round it up. There's no need to add extra numbers to it, so whatever number you arrive at is your bust size.
With your band and bust numbers handy, subtract the two numbers from each other. If the difference in inches is 0 inches, you're a AA cup size. A difference of 1 inch is an A cup, 2 inches is a B cup, 3 inches is a C cup, 4 inches is a D cup, 5 inches is a DD cup, 6 inches is a DDD cup, and 7 inches is a G cup using American cup sizes.
As for panties, first, you need to know the width of your waist. You need flexible measuring tape and a buddy for this once again. Then, measure your hips where they're fullest.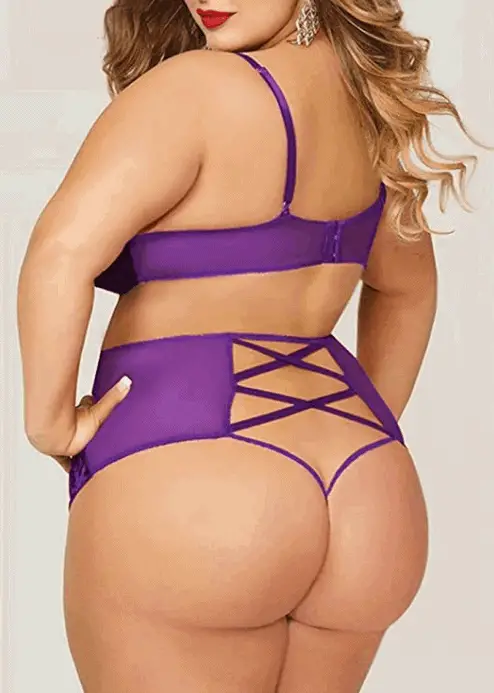 A small in panties is for hips of 35 to 36 inches and a waist of 25 to 26 inches. You need a medium if your hips are 37 to 38 inches and your waist is 27 to 28 inches. A large is for hips of 39 to 40 inches and a waist size of 29 to 30 inches. If you need an XL, your hips are 41 to 42 inches and your waist is 31 to 32 inches.
Keep in mind that even knowing the measurements for your bra and panties doesn't necessarily mean you'll stick to those sizes exclusively. Some lingerie brands run bigger and others smaller. If you have to go up a few sizes at times, please don't let it discourage you too much. It's just the sizing for that brand or store!
See the Intimates in the Store If You Can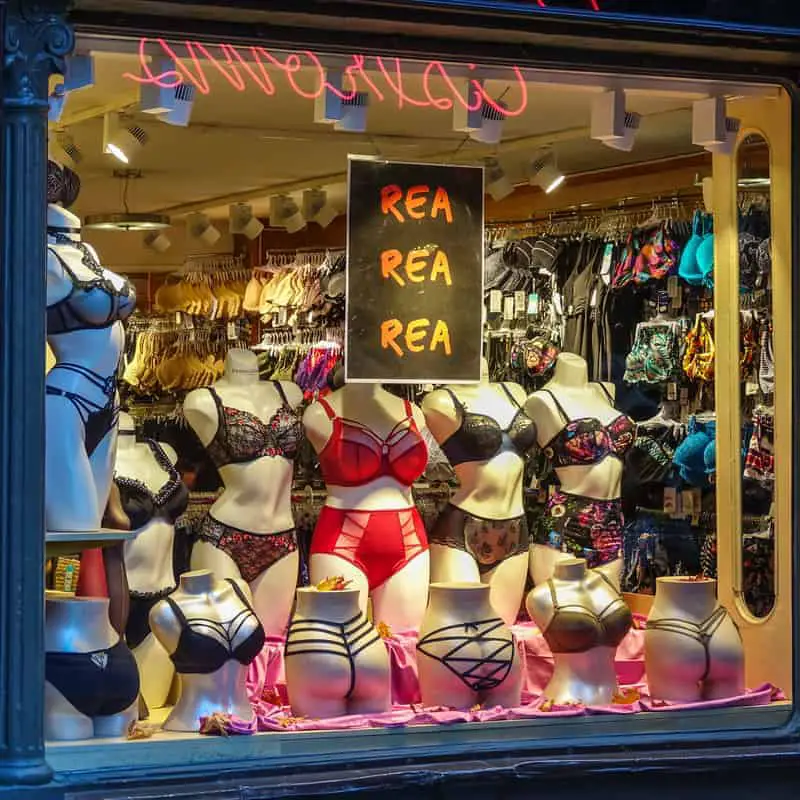 Imagine this scenario: after a lot of searching (and we mean a lot), you find a balconette bra that you're in love with as part of a lingerie set. You excitedly buy it online and wait impatiently for it to arrive at your doorstep.
When it finally does, you bust open the box in record time and hold the lingerie up. It's certainly a lot…sheerer than you would have anticipated. Now you're not sure if you like it nearly as much as you did when you saw it on the model online.
Lingerie comes in all sorts of materials, some of them completely see-through, others frilly, and some that may not feel super great against your skin, as good as they look when you're wearing them.
If you buy cheaper intimates especially, then the quality of the materials may be even more up in the air. That's why we recommend going to a store to check out what you want to purchase rather than just blindly shopping online. As great as online photos are, these photos are not always true to the product that will arrive in the mail.
Even if the lingerie brand you want to buy from doesn't have a physical presence, then you can always hunt for similar pieces at a store. This will give you a good idea of what the materials look like and how they feel.
Always Try on Before You Buy
While you're at the store, you might as well try on the lingerie you have in your hands. You already approve of the quality of the materials, after all, so put the set on and see how it fits on your body.
Your bra should not have any gaps in the cups. If it does, it's too big. Your breasts also shouldn't be trying to escape via the sides of your bra. If your breasts do spilleth over, that's also a problem, as it means your bra is too tight.
You also don't want shoulder straps that dig into your skin. Try adjusting the straps first and see if that helps, but if not, then the bra is again likely too small. Also, although it's not fun, you will have to inspect yourself in those dressing room mirrors to see how the bra band sits on your back. It should be flush in the middle of your back if it fits well. A band that rides up higher is too small.
As for panties, the set you try on should sit against your hips but without digging into them. Wearing the underwear shouldn't create unflattering bulges at your hips or thighs, either when sitting or standing. You also don't want panty lines.
Go Outside of Your Comfort Zone a Little
Buying lingerie as a plus-size woman can be nerve-wracking enough, we know, but if you only ever wear one color or style, you're not being fair to yourself. This article from Edited that examined the state of the lingerie industry and notes that body inclusivity and positivity had a big moment.
More and more, your favorite lingerie brands and even those you thought you could never buy from are beginning to show lingerie models with bodies in all shapes and sizes. This is how it should be, as the world is a diverse place with lots of body types, all of which deserve to be represented.
Seeing a lingerie model with a body like yours is a really awesome feeling. The other benefit of this body positive movement is that now more lingerie brands than ever are stocking bigger sizes. No longer will you only find bra cup sizes up to a D or panties that aren't any larger than an XL.
So go ahead, try something new. Buy that intimates set in neon green rather than black. Try a funky pattern, a colorful collection of lingerie, or a new bra style. You can find what fits you more easily than ever before!
Conclusion
What you wear under your clothes is important. Whether you want to surprise your partner to a night of sexy times or you just want to feel good about yourself by parading around your house in lingerie, you need a set of intimates that flatters your curves.
Now that you know what you have to do to find such amazing lingerie, you don't have to fear intimates anymore. Use them to accentuate and celebrate your body!