You have a social occasion coming up that calls for formalwear. You've dug through your closet time and again, but you still can't find something nice enough to wear for the event. It's time to buy a new dress, but as a plus-size woman, you worry this quest might be fraught with obstacles, especially when shopping online. How do you find a quality, appealing plus size formal dress that fits when buying through the Internet?
We recommend the following tips for shopping online for a plus size formal dress:
Choose brands you already know and love
Take your measurements
Read all the dress information carefully before buying
Shop fabrics like neoprene, satin, crepe, and other quality materials
Make sure there's a return policy
Keep reading for more pointers on finding amazing plus-size formal dresses as well as plenty of dress suggestions to get you started. You may even discover that shopping online for plus-size clothing doesn't have to be a headache.
Let's begin!
5 Handy Tips to Follow When Shopping Online for Plus-Size Formalwear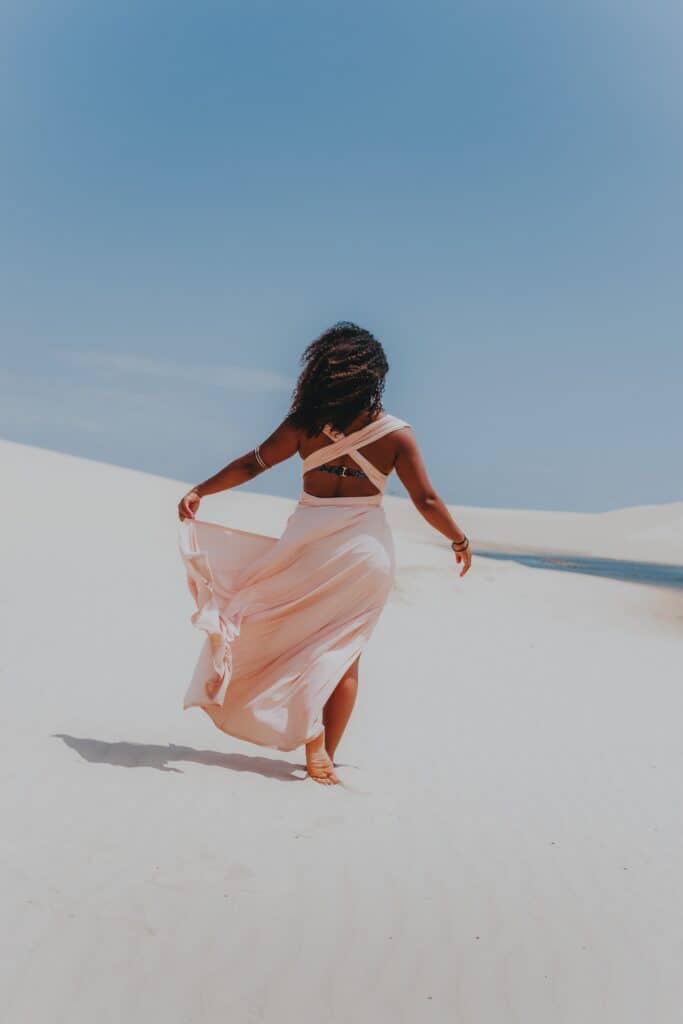 Stick with the Brands You Know and Love
Unless you're walking on a runway, then you probably don't need haute couture like what the celebs wear for this formal event of yours. These days, all your favorite brands have branched into formalwear, some of it a little more relaxed and others very dressed up.
By sticking with the brands that you shop all the time, you know you'll get reliable quality, fast shipping, and clothing that fits. That doesn't mean you should skip taking measurements (more on this in the next section), but shopping a familiar brand removes some of the nerves you may have about buying a plus-size formal dress online.
Of course, the Internet is a vast place, and you can easily spend hours browsing around for plus-size formal dresses without finding anything you really like. To put some time back onto your calendar, we combed through some great plus-size retailers to pick out a few dresses for your upcoming occasion.
Know Your Measurements
We talked above about the importance of measurements, but it's time to delve deeper into the topic. Since you're shopping online, you need to know how large you need the bust and waist of your dress to be, not to mention how long the dress should be for your height. To fill in all those blanks, you'll have to measure yourself or have someone else help you do it.
Here's a rundown of all the areas you have to measure. Yes, it's a lot, but please don't skip any if you want your formal dress to fit!
Legs: You want to wrap your measuring tape around the part of your leg where it's fullest, which is typically the thigh. Take down that measurement as a circumference.
Knees: Indeed, you need to go as far as to measure your knees for some formal dresses. Put the measuring tape around your kneecap and determine the circumference.
Outseam: Your outseam is how tall you are from your ankle to your waist.
Inseam: The inseam starts at the ankle too but stops at the bottom of your crotch. Unlike the outseam, it's an inner leg measurement.
Back length: Start at your neck and pull the measuring tape all the way to your waistline to gauge your back length.
Front length: Do the same for your front, beginning at the neck and stopping at your waist.
Back width: At the part of your back that's widest, have a friend hold the measuring tape from one shoulder to another and calculate the width.
Bust spread: The bust spread is how much distance is between one full area of your bust to the other, typically from the first nipple to the second.
Shoulder length: Start at your neck and measure to where your shoulder ends to get your shoulder length.
Hip width: We've talked about measuring your hips on this blog before. For a refresher, you want to put your measuring tape around the fullest part of your hips for an accurate measurement.
Waist size: If you don't already have your waist size handy, ask a second person to wrap the measuring tape around your waist where it's narrowest, or about where your belly button is.
Bust size: You can measure your bust by putting the measuring tape around where your chest is fullest.
Read All the Information on the Dress Before Adding It to Your Cart
Since you won't see the dress in person before you buy it and formal dresses are usually pretty expensive, you don't want to skip a single detail in the online listing's description. That's why we included the lengths of all the dresses we shared earlier, as that's one of the most important things to know.
If you're on the shorter side, then you don't want a dress that's too long or it will swallow you up. Also, you'll either have to hem it yourself or go to a tailor so you don't trip on your dress all night. That's an extra step and expense you can avoid if you read before buying.
Besides that, you also want to know what the dress is made of (more on this momentarily) and what size the model in the picture is wearing. Sometimes we can get an idea of a dress based on the photos online, then it arrives and doesn't look the same on us. Try to find pictures of plus-size women wearing the same dress before you buy it. That'll paint a more accurate picture of how the dress will look on your curves.
Choose Quality Fabrics Only
How many of us have ordered clothing online that looks to be good quality, then it arrives and it's flimsy and, gulp, even see-through? Formal dresses are expensive, like we said, but the quality of the dress can vary depending on where you buy it from. That's why we suggested some of our favorite plus-size retailers earlier, as you don't have to second-guess the quality.
Here are some dress materials you want to focus on as you narrow down your options.
Neoprene: Neoprene gives a dress shape and smoothness. It also has insulating qualities and doesn't wrinkle easily. Even still, neoprene boasts a soft feel, which is why it's started appearing in more and more fashionable items, including those for plus-size women.
Polyester: Polyester is another great pick for a formal dress material. It also won't wrinkle, nor will it shrink in the wash. The flexibility and durability of polyester fibers will keep your dress around longer too.
Spandex: Spandex might sound scary to a plus-size woman, but most formal dresses have just some spandex. The material is lightweight so your dress doesn't weigh you down. With spandex, your dress will also be more elastic so it can stretch and move freely with you.
Organza: Organza adds the dressiness you're looking for as well as provides an eye-catching sheen. The texture of organza feels great, almost wiry, which gives structure to your dress.
Satin: Pure satin can't be beat, nor can quality materials that imitate satin. The soft feel and luxurious look of satin makes it a common material for formal dresses.
Crepe: Crepe is gentle yet can stretch surprisingly well. Having crepe layers in your dress will make it far more elegant. The texture of crepe is nice as well.
Chiffon: Chiffon is utterly beautiful, made of yarns that are twisted either tightly or loosely. The transparent look of chiffon creates lovely layering on any formal dress, and you can gather it or drape it without the chiffon getting bunched up.
Velvet: You can't go wrong with velvet, which has a touchably smooth surface. This material is also surprisingly delicate.
Don't Buy If There's No Return Policy
Our last tip is one you want to remember above all else. You skip the dressing rooms when shopping online, which is one of the diciest parts of the process, especially for formalwear. You'll have to try on your dress when it arrives, but what if it doesn't fit or the color is off from the photos or you just don't like it?
If you buy from a retailer with no return policy, then too bad, you're stuck with it. Considering we're talking about a formal dress here and not a $20 shirt, you do not want to get stuck with a costly investment you can't wear. Make sure your retailer accepts returns!
Conclusion
Buying a plus-size formal dress online may sound crazy, but bear with us. By measuring yourself first, shopping your favorite plus-size retailers, and ensuring you get a return policy, you can find the dress you need for that wedding, graduation, or work event. Check out our other article on evening gowns that'll make you own the room. Best of luck!
Recent Posts