With the change in seasons will come shorter days and cooler temperatures, which means it's time to retire your shorts and swimsuits and dig out your hoodies and jeans instead. So, as a curvy woman, how do you pull off plus size fall fashion trends?
Here are tips for dressing in plus-size style all autumn long:
Step away from the puffer coats and wear a fitted coat instead
Shaping leggings are your best friend
You can wear all sorts of fall boots, so don't shy away
Dark denim is super flattering, even if it's tighter
Avoid over-layering
A few oversized sweaters are okay, but form-fitting ones are also good
If some of these fashion tips have you feeling a little uncertain, fear not. Ahead, we'll elaborate on each point above, providing plenty of fall clothing suggestions so you can look and feel your best all autumn long.
Let's begin!
6 Tips for Chic, Plus Size Fall Fashion Perfection
Yes, That's Right, Buy a Fitted Coat
With that chill in the air, it's definitely time to dust off your autumn coat. If your coat was a little small last year, then why not upgrade to a new one for a cozier fall?
If you feel a little insecure about your body, a coat can be a godsend. You can hide behind its thickness so yours is less noticeable. That may be why the current autumn coat in your closet is a big puffer jacket.
That's not to say puffer jackets don't ever have their place, but these heavy, bulky jackets tend to make you look even larger than you are. If you're wearing heavier clothes or layers beneath your coat, both of which are common in the fall, then your silhouette could look even more bloated.
It might make you feel a touch uncomfortable to go into fitted coat territory, but you'll be so glad you did. To mitigate some of your nervousness, it's okay to stick to a darker coat color such as navy blue or black. Also, coats that taper at the hips and stomach but are tighter elsewhere are another option, and these are super precious!
Coats aren't skin-tight, so a form-fitting coat will hug your curves without constricting you and making your body look unflattering. Instead, you'll find that you love your shape in a more close-fitting coat so you can finally ditch that puffer jacket.
Get Leggings That Shape Your Lower Half
In the summer, if you didn't feel like donning denim, you could slip into a skirt or a cozy dress. Now that it's fall, you'll freeze in your dresses, so you need to start wearing leggings instead.
The rule used to be that you had to wear leggings like tights, i.e., your butt had to be covered. Since then, athleisure has become a fashion staple and proved that women of all sizes can rock leggings like pants.
That said, leggings are skin-tight, so maybe you shy away from them with your figure. That doesn't have to be the case when you wear shaping leggings.
Now, we're not talking about shapewear here, just leggings with shapewear-like features like tummy control, waist shaping, and rear extenuating. Take a look at this collection of shaping leggings from Shapermint to see what we mean. These look and feel like real leggings but make your bottom half look better. Unlike shapewear, you can wear them as your outer layer with pride.
Once you unlock leggings as part of your plus-size fall fashion wardrobe, you can wear so many more cute autumnal looks.
Expand Your Fall Boot Collection
Speaking of cute autumnal looks, let's talk shoes. You probably favor summer footwear because it's easier to find flip-flops and sandals that fit more so than it is closed-toed shoes. It's not so much your foot size that's the issue, but your ankles, right? Boots just don't want to zip up across your legs, and you even struggle with booties.
A couple of weeks ago, we wrote a blog post on just this topic. If you missed that post, we're here to deliver some good news: you can indeed wear autumn boots (and booties) as a plus-sized woman.
When we say boots, by the way, we mean all sorts of boots, from equestrian-inspired riding boots to adorable heeled booties to combat boots and even rain boots for those dark, wet days ahead.
Now, if you've recently tried on some boots and struggled with the zipper, you may be asking, how could you ever rock so many boot styles as a plus-sized woman?
The key is to buy wide boots.
There's all there is to it. Yes, you have to do more research than the average lady, but many of your favorite shoe brands of today sell wider boots for fuller-figured women. These include Asos, Doc Martens, and even the beloved rain boot brand Hunter.
Some wider boots have elastic so they stretch while others are designed to conform to a plus-size woman's feet and ankles. Either way, you get boots and booties that finally fit your frame so you can traipse through the pumpkin patch in style.
Opt for Darker Denim
Now it's time to discuss what we're sure is no plus-size woman's favorite topic, and that's denim. We want to dispel all the denim myths surrounding fuller-figured ladies so you can buy jeans that you not only love but that you look phenomenal in as well.
So first, let's talk color. We're not here to discourage you, so we want to emphasize that you can wear any denim color under the sun. If you want a hue that hides more though, then darker denim is a wise choice. You don't even need to necessarily go with the blackest denim you can find, but mid-blue to darker blue.
What about jean styles? Believe it or not, plus-size women can pull off any jean style with confidence and the correct sizing. Here's how:
As you shop for your jeans, allow us to reiterate a few points we made in a recent blog post. First, remember that fit is everything, yet jean sizes are all over the map. It's okay if you're a size 14 in one brand and a size 18 in another even if the jeans look about the same size. Instead of focusing so much on the number on the label, pay attention to the fit of the denim. That's what matters most. We talked about some issues with stretch jeans in a past post.
Also, try to avoid large, frayed holes in your jeans, which can sometimes be tough if you're shopping for boyfriend jeans. These holes can bring attention to your butt, which all women may not want.
Our last tip is to watch what kind of decorations your jeans have. Emblazoned logos or bedazzlement on the rear especially is frowned upon, especially if you have a larger butt. All eyes will again be front and center on your backside.
Over-Layering Is a Big No-No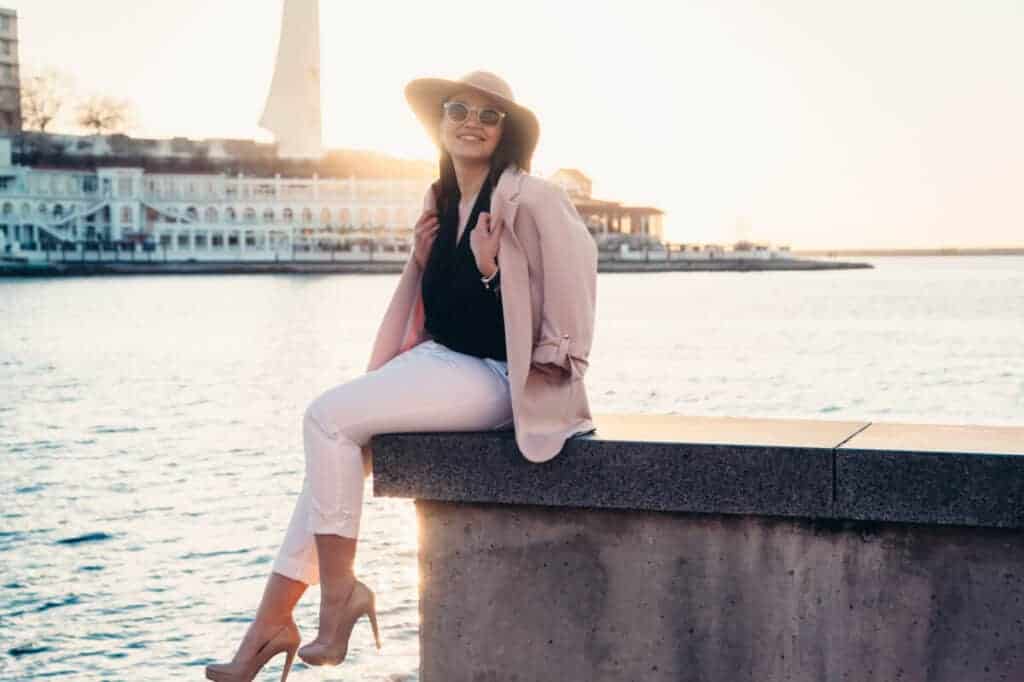 Dressing for the fall is tough. The morning may start out cool, then it becomes warm when the sun is high. Later, as the sun sets, the weather is chilly yet again. To be prepared for all weather scenarios in any given day, you probably layer up, right?
There's nothing inherently wrong with layering, but you need to know when to call it quits. A denim jacket over a t-shirt? Fine! A light cardigan over a dress? You know it! A thick cardi over a hoodie? Unless the temperatures are in the single digits, this might be too much layering.
Whether you stack one bulky clothing item on top of another or you wear too many layers at once, the result is the same. You end up looking like Joey in that episode of Friends when he wears all of Chandler's clothes. In other words, you add so much more unnecessary bulk to your frame.
This is just like what happens when you choose a heavier, thicker fall coat instead of a slimmer, more streamlined one. We can totally understand the temptation to wear lots of layers, as you can erase what you perceive as trouble spots. What you often end up doing though is bringing even more attention to your body because you're unintentionally magnifying its size.
We're not saying don't wear layers at all, as you'll rely on them often in the fall. Just be conscientious about how and what you layer. A lighter shirt with a heavier layer is fine, but a heavier shirt probably doesn't need a second layer in the fall.
Ditch All the Baggy Sweaters
Baggy sweaters are certainly a look, and with a pair of leggings, you have one comfy, reliable outfit you can wear in a pinch, be it for brunch or girls' night. That said, every sweater in your wardrobe should not be baggy. For shorter plus-size gals especially, you look like you're drowning in your sweater.
You have wonderful curves, so you might as well show them off. You just want to make smart shopping decisions about how you do that.
For instance, if your waist is wide but lacks shape, then you want to especially ditch the oversized sweaters. All that fabric only serves to make your waist look even more unidentifiable. Instead, buy a fitted sweater. This will hug your curves and give your waist some shape.
If you're especially busty, then thick knits are not recommended. They will make your breasts stand out especially. The same is true of higher-necked sweaters, as the uniformity of the sweater guides the eye towards the chest.
Try a too-cute wrap sweater or a boatneck style with a pair of jeans instead. V-necks, as long as they're not too low-cut, will also focus attention away from your breasts and more towards the cut of your sweater.
Conclusion
Autumn is one of the best times of year, as you get to enjoy cooler nights, fall candles, pumpkin picking, and yes, the beloved PSL. If your plus-size fall fashion could use a major overhaul, the tips we presented in this article will act as a great starting point.
Sometimes, finding what fits you best means stepping outside of your comfort zone and being willing to try something new. Once you do, you may never look back. Lots of luck!
Recent Posts