The pear shape is relatively the most common figure among women. This body type has the widest part below your waist. You are basically a bottom-heavy. A pear figure is not limited to a particular physique, size, or height. You can be tall short, slender, or chubby and still have a pear shape.
In this article, we shall be discussing how to style a pear-shaped figure. So, how do you style such a body? The dynamics vary depending on your personal preference. Do you like having your curves pop or would you rather have them subtly disguised? Ultimately, a pear shape will always go noticed so the difference comes in just how much of your curvy figure do you want to be seen. To what extent would you parade your shape?
Before we get into the styling details let us first cover a few basics that will point us in the right direction, first off being, what exactly are the distinguishing characteristics of a pear.
Pear Shape Features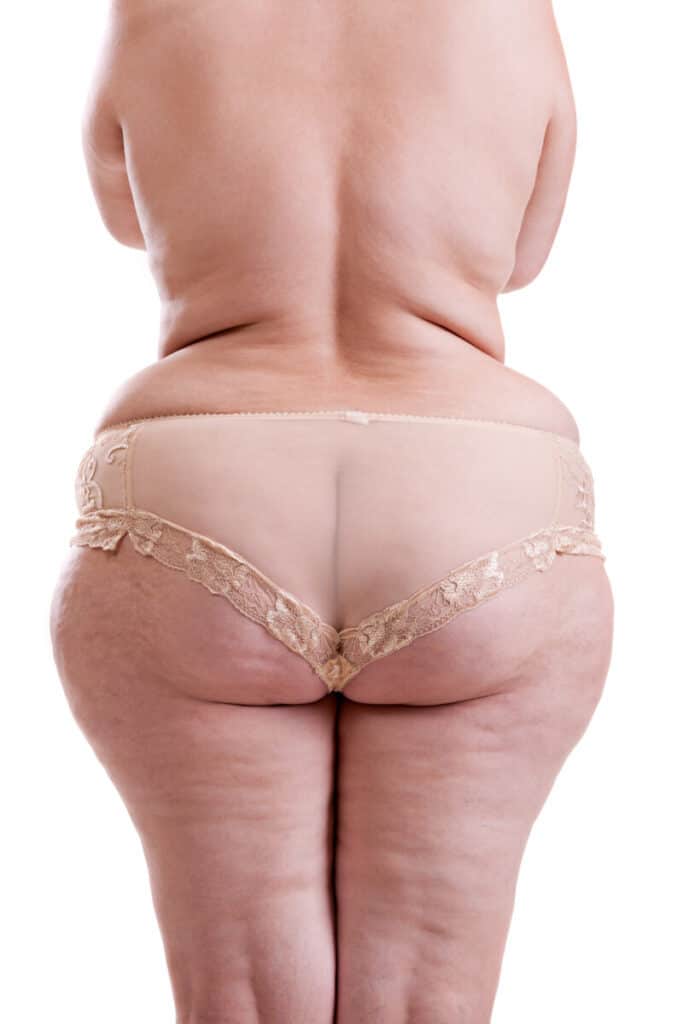 Sometimes a pear shape, also known as a triangular shape, can come across as an hourglass figure because of certain similar traits the two share; one of them being a synched in waist. However, an hourglass girl has equal width measurements of her hip and bust area, along with a significantly narrower waistline. A pear girl on the other hand has;
Her shoulders narrower than her hips.
Prominent thighs.
When you gain weight, you first notice it on your thighs or butt area.
Could have a smaller chest.
Popular celebrities who take to this body shape are Kim Kardashian, Jennifer Lopez, and Beyonce Knowles. A girl who intends to camouflage her pear figure should aim to make the distance between her shoulders and hip less visible. On the flip side, there are those who gravitate towards accentuating their curves. Both sides of the coin are covered in this read!
Let' start off with the standard approach.
Dressing for Balance
Here is how to creatively tone down those protruding hips;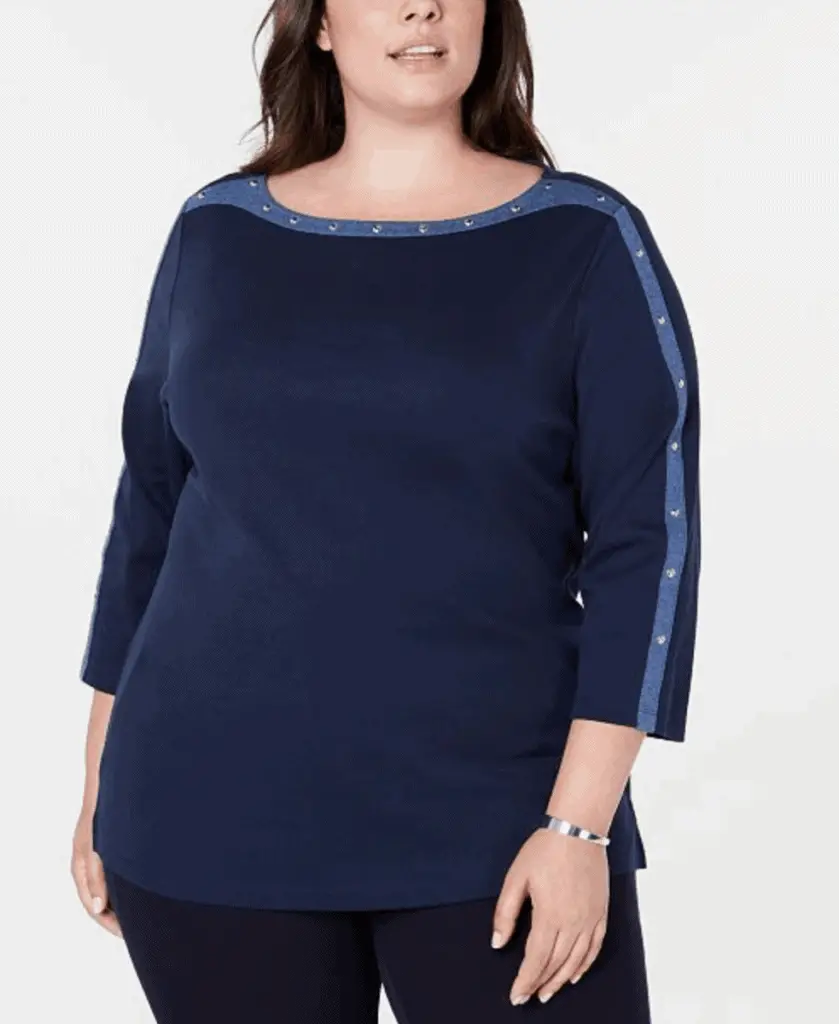 Wear darker colors at the bottom– solid colors have a slimming effect, which is exactly what you are going for on your bottom half. Pencil or A-line skirts especially are good for hugging in your curves while giving you a narrow finish. A midi length cut with heels is especially adorable and chic. Alternatively, you could do a dark-themed pant.
Flare it up- a pear shape is best complemented with a wide-legged trouser. The two in conjunction balance out your frame such that you don't look overly bulky in one area. Limit your wardrobe to flat-front trousers (material that lies flat) rather than tapered pants. The latter appeals better to less- curvier girls.
Keep it fun at the top– you need to accessorize your top as much as possible. As you narrow your hipline, visually widen your shoulders. The idea is to steer attention away from your bottom to your top half. This you can do by rocking fun, playful and colorful tops. Add ruffles, pleats, or puffy sleeves to keep your upper torso looking busy. Alternatively, you can opt for a fun scarf and tie it creatively. A long vibrant necklace will also certainly draw the eye.
Experiment with different necklines– here, you can switch up to different selections depending on what is comfortable and flattering to your chest area. A V neck especially will give you depth and style. However, if that is not an option for you, try out a U neckline or a boat line. Top-heavy girls will get more bust coverage with the last two. You definitely do not want any spillage!
Show off your shoulders– because pear-shaped girls have their shoulder area narrower than the width of their hips; you can make up for this deficiency by showing off more skin in that region. A horizontal cut is the ideal way to go about it. Off-shoulder tops create a broader illusion thus giving you more balance structure-wise. You can opt to have the top slightly below your neck or a bit further down, and need not say a strapless bra.
Skater dresses- such a dress is regarded as a fit and flare. It is well fitted at the top but spreads out at the bottom. The same applies to A-line dresses. The advantage with a skater is that it is roomy enough to accommodate your hips without conspicuously announcing them. So you have a visible figure that is that much toned. Go for a flattering length that complements your height. A cut right above the knee hits right! Nevertheless, you can choose to go a bit lower or further up high.
Coats and jackets- either one can perfectly synchronize your whole look if used appropriately. Crop jackets give you an awkward finish so refrain from that unless you have a longer top to work with. One that ends past your hips, however, does not accentuate your width. Instead, it narrows your hip line and adds a touch of flirty. Blazers with shoulder pads work best compared to other kinds; not to mention they are making a stylish comeback. Its structure does not take to sloppy shoulders but gives you more volume to play with. You can have it a bit brighter or in an accent shade now that you might already have a darker theme in play at the bottom.
Firmer materials– remember, the end goal is to make the distance between your shoulders and hips less visible. Materials that hold onto their form are best when it comes to streamlining your body. For a plus-size pear, denim clothing will hold you in more, as opposed to velvet, when seeking a narrow silhouette. If you opt to keep it loose at the top, make sure that you balance out your outfit with a fitting bottom. Tunic clothes tend to have a baggy design to them but come in handy for those girls with fuller tummies. In that case, for you not to appear heavier, complement such a top with a cute legging or great-fitting jeans.
Vertical stripes– this particular one is for shorter girls or anyone who would like to achieve more height. Perpendicular stripes make you appear like you have longer legs and an elongated frame. At the same time, a slimmer body. You can have a stripped dress, jumpsuit, pants even shorts. It is important to note that horizontal stripes will always work against deemphasizing your full curves.
Accessorizing– this aspect is rarely dealt with but it does play a vital role in obtaining symmetry. Plus girls are no stranger to the round face structure. While directing attention to other places other than your abdomen, ensure that your face is equally proportional and working in your favor. Chunky long earrings afford you a less full face. They accentuate your jawbones features and make your neck pop. Avoid long strappy handbags or crossbody bags. Make do with a stylish clutch or short straps, generally something that sits upright under the arm.
Key reminders
Keep away from trouser side pockets, they will only play up your hip area
Ensure that your blouse doesn't cut right at your hips.
Wear your trousers a bit lower (around your mid-waist) for a better slim fit.
Preferably adorn attires that come with zips rather than buttons because buttons add unnecessary volume.
Accentuating your pear figure
As mentioned above, you get to decide how you want to dress your pear body. The conventional way is to create balance but on the flip side you can as well emphasize your beautiful shape; besides not everyone has got it! Show your body some love by displaying those voluptuous curves. Here is how you can do that: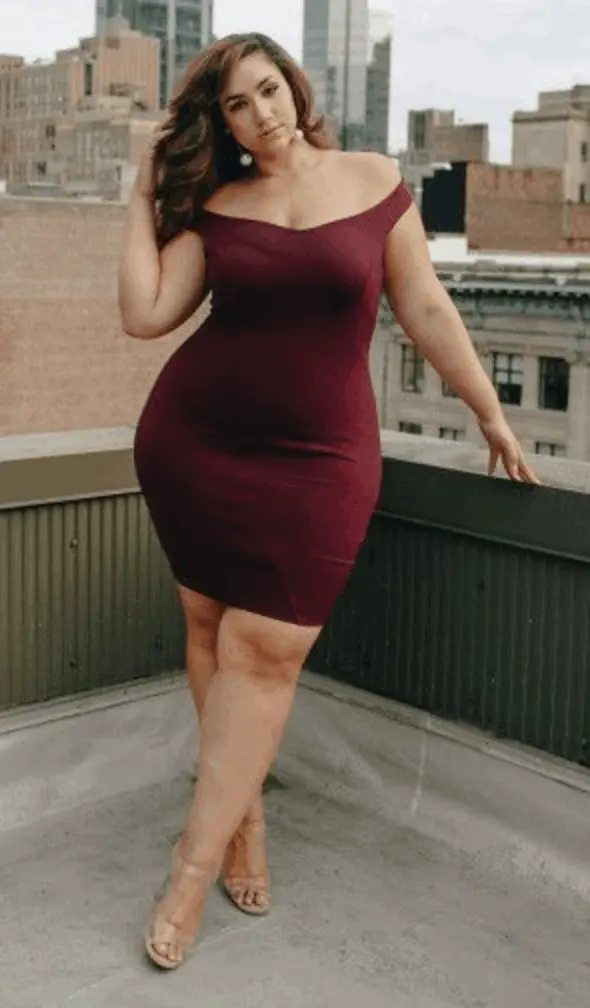 Bring on the bodycon– there's no better way to show off your figure other than a body con dress. It naturally takes to your curves by hugging your rear and giving you a sexy coke bottle shape. Choose to accessorize it with a cute a classy heel or sandal, statement jewelry, a custom bag and some nicely done makeup.
Skinny jeans– this jean is a must-have. More especially those with the latest ripped or rugged fashion. The beauty with a skinny jean is how it smoothly skims over your abdomen, highlighting the widest area of your hips. Those with a horizontal line detail will further accentuate your width. You can always wear it with a close-fitting floral top, a peplum, or something that doesn't flow too low. However, remember not to overdo with the top fitting, lest you end up looking squeezed.
Stretchy fabric– stretchy material is partially made up of elastic fibers such as lycra, elastane, spandex which glide over your body giving it the hug it deserves. Even with a maxi dress, you still get a figure highlight that is pleasantly appealing. To tuck in some of that excess belly fat, wear a corset or a tummy trimmer, you will take to an enviable sculptured silhouette.
Keep it high waist– this applies to both jeans and skirts. A mid-rise will give you balance, but the crème de la crème is when you rock your attire above your belly button. Considering that plus girls add extra bulk with tops that have pleats and gathers, a high waist outfit is your next best option. It has the same effect as the above tops, which is camouflaging your tummy.
Belt up – typically, pear-shaped girls have a smaller waist. This is one of their predominant traits. You can make the most out of this blessing by accessorizing with a belt. Belts work on just about any clothing as long as you know how to style it; skirts, jeans, formal pants, dresses. Place your belt higher up your waistline for a much synched in effect. In case your torso doesn't brag of a thin contour then consider dresses with a seam around the waist or jackets that have one button around the same area.
How to tell when you should balance or accentuate your shape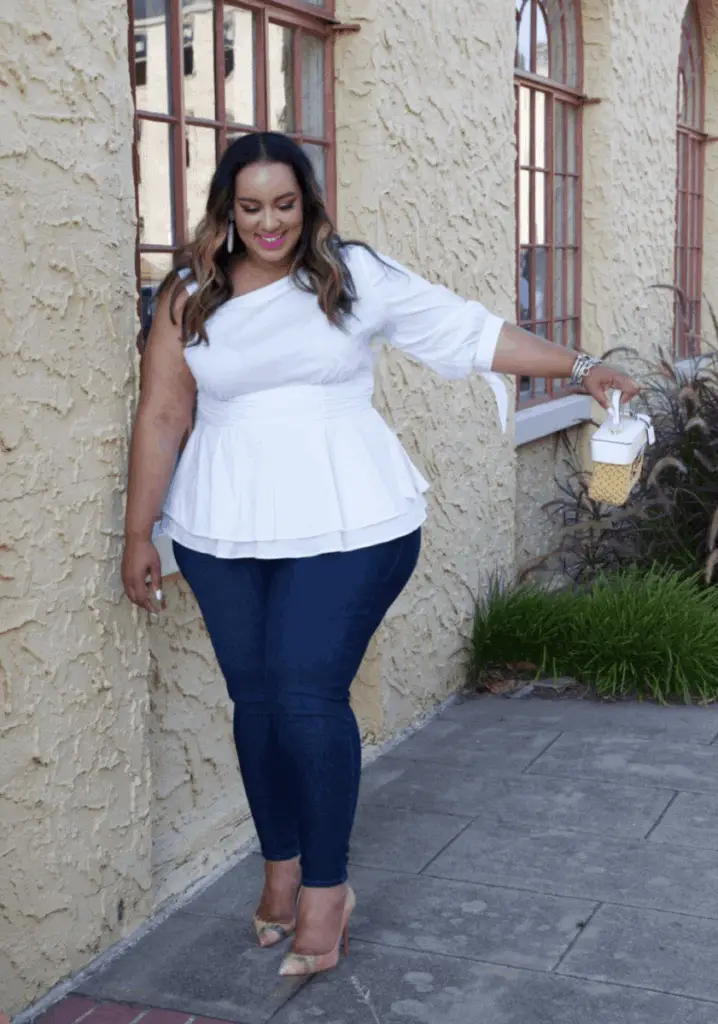 The first compass should be your line of profession. If you happen to work in more corporate, official settings; then the most appropriate option would be to play it down. Very revealing dressing could earn you a bad reputation or even cost you your job. When selecting a suit, go for one with a long blazer that partly covers your rear. Refrain from very fitting tops or too tight skirts. An A-line dress is equally modest and presentable. Lengthwise, stick to options that do not show off too much leg.
The second guide would be the occasion. What kind of event are you preparing for? Is it a formal one or non- formal. Something like a wedding or an evening dinner gives you more freedom to work with sexier dresses whereas a business casual event comes with certain restrictions. You may need to cautiously select that which won't throw you off the acceptable look. A good idea would be to maintain your regular office wear, with just a touch of luxurious jewelry, strappy heels, and a twist to your hair.
Lastly is comfort. Do not compromise on your comfort when dressing. Different girls have different confidence levels; so never try to imitate someone who does not mind showing off more skin, if you aren't there yet- just be yourself. If you feel like some coverage will do you justice then go for it. Conversely, if you are curvy and do not feel shy about it, dress up for the world to see!
Final thoughts
Pear-shaped plus sizes are stunning. Self-love is an important ingredient when searching for what works best for your body. Without it, you only exude a dull demeanor which is never appealing even alongside a seemingly great outfit. Remember to always contrast the colors regardless. Do not make it too bright either should it be very gloomy. Finally, let your personality shine through your clothes. Wear a high self-esteem and a charming smile to top it off. For more style ideas check out our top picks!