Fashion, in the most unique of ways, affords us a chance to present our authentic selves to the outer world – a raw, uncut version of who we truly are. Add the word edgy in there and you have an elevated meaning altogether. In the simplest of terms, edgy plus size fashion has to do with pushing the limits and not being boxed into predictable ways of dressing.
In some sense, this style has its roots deeply anchored in alternative fashion trends. If you pay close attention, you will notice that a lot of its elements are borrowed from alternative wear, the only difference being a touch of modern sophistication. Thus, in a nutshell, an edgy woman is a free-spirited being who enjoys the underlying intricacies of constructing looks.
Speaking of building looks, what takes an outfit from plain old boring to modern and cool? The simple answer is creativity and being able to veer off from your comfort zone to try out new pieces that bring a fresh appeal or something out of the ordinary. That means experimenting with your clothing, everything from shoes, bags, and jewelry in a bid to assemble a fun, spicy wear.
There isn't much of a difference between an edgy and conservative style. The two are made to appear worlds apart but in real sense, the only dividing element scales down to how you wear an item and not so much what item you have. Of course, the latter may have a subtle impact, but the tact lies in the styling rather than the outfit pieces themselves.
I'll get to show you a lot more on that as well as interesting discussions on what looks edgy on a plus-size body. Is it showing more or less? Does simplicity get the job done or should you work really hard to get that chic, modern vibe? Additional styling tips relating to how you can create an edgy feel from simple pieces will also be highlighted. So buckle up, and get ready for a treat!
Let's start with the basics.
Edgy Wardrobe Essentials
Now again, there is no one size fits all formula to this but there are certainly some wardrobe staples that every edge-craving girl should own.
1. Catchy shoe wear – shoes are a game-changer. Whenever an outfit seems to be lacking in one way or the other, throw on an extravagant pair and witness the difference. Leather ankle boots paired with a leather jacket is the ultimate bad-ass look. It emanates a matchless retro vibe which makes you look that much cooler. Definitely a must-have!
Exciting elements such as zippers, studs and rivets, the kind gothic die-hards wear, also give your feet that extra sauce. To stray even further from customary trends, go crazy with a mismatched pair. Same sneaker style but a different color on each foot. How about that!
2. Artsy jewelry – accessories add some spruce that wouldn't otherwise be availed by clothing. In respect to this, there are no boundaries or limits to just how far you can go with jewelry, but if you hope to stay fashion-forward, make your accessories are a statement piece. A lovable trend involves wearing a ton of rings, vintage bracelets all at the same time. Have a layered chain to compliment the look as well. The louder your accessories are, the edgier they look.
3. Mesh fabrics – you can never go wrong with a bit of mesh in your attire, particularly if you intend to steal the limelight. Parties and events create the ideal environment to show off some skin and to this end, a see-through gown will serve you just right. Alternatively, add a touch of extravagance with some voluminous feathers that sway from side to side as you strut. This paired with high slit crafts a deadly combo.
4. Bold colors and prints – the idea behind not taking to formal, traditional clothing is that as the wearer, you get to decide what goes and what doesn't. One way to steer towards exceptional looks is by warming up to different bold colors. Black, white, and grays are convenient but a luscious tone comes off as the perfect missing piece. Think yellow, burgundy, blues, olive green, and not just mellow hues.
A monochrome look though would be a great way to shake things up if you're not sure what colors would blend well together. But also try out catchy patterns from polka dots to python or cheetah prints.
5. Makeup with some oomph – an edgy look comes together when other smaller elements are in sync – especially your makeup. It has to match the same energy and own some sort of personality itself. Have your eyes popping with some sexy fox eye makeup, maybe a rainbow eye with a blend of 3 or more colors accentuated with extra-long lashes.
Juice up your lips with a bold color – ombre lips are quite trendy or make them conspicuously dark so they stand out. You can also play up your facial structure with some highlights and sleek contouring. Or better yet, aim for a wild theme maybe a party look and go feral with it!
6. Bodycon dresses- Kim Kardashian is the reigning queen whenever you think of body shaping dresses. Remember that look she pulled off at the Met Gala? Pure perfection! She practically schooled us on what it means to contour your figure. And being the icon that she is, we could definitely learn a thing or two from her.
Bodycon dresses made from sweater-like material could get you there but the more snag the fabric, the more your curves show. If you are bold enough to have it fitted exactly to your precise measurements all across, then you will be turning heads for sure!
7. Daring piercings – everybody has the ear lobe ring, but an unconventional area is where the tea's at. How cool does a bull ring look? Or perhaps a gypsy look for a more bohemian style. Spots such as the tongue, brow, belly button, ear rook can be excruciatingly painful but as they say, no pain, no gain.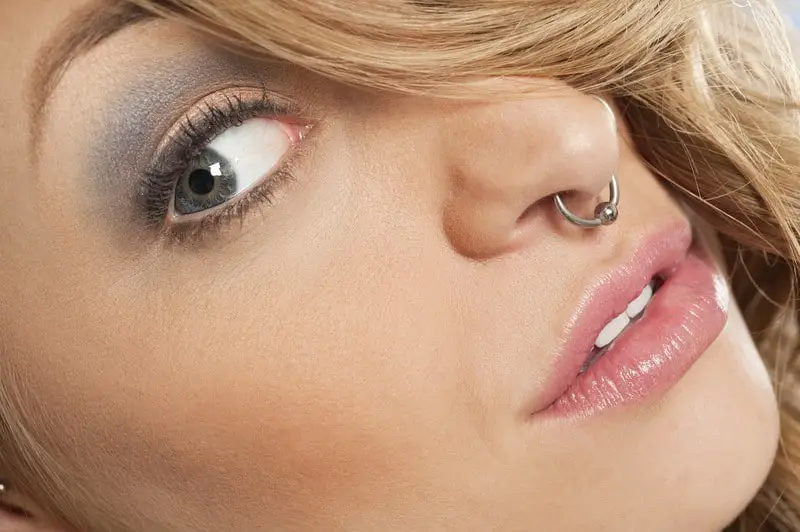 8. Funky hair – if you're the type to hold on to one hairdo time and again, your place is with the conservative lot. I mean, edgy fashionistas always keep us guessing what look they'll pull off next. You never quite know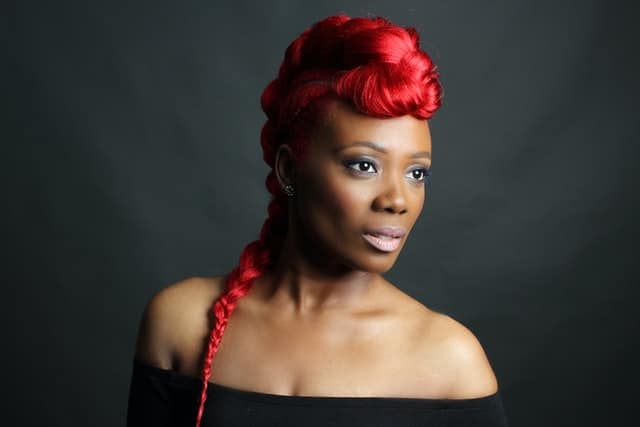 It could be a new dye, insanely long braids, or a half-shaved head with cute curls to the side, a pixie cut with a twist, nothing is impossible with the edgy woman. A great example would be Nikki Minaj who's never shy to bring on a fresh look. Her wigs literally flow all the way down to the floor, and have you seen the colors?
Luminous green shades, purple, pink, the girl has no boundaries. It's this kind of daring that makes her the legend she is. Another popular edgy look that seems to outlast trends is the platinum blonde hair. It could go with some shadowy roots or just plain old platinum, whatever the style, it is undeniably a style statement.
9. Large, conspicuous hats – head accessories are no longer just some item you throw on to match your attire. They are inspirational pieces through which you can up your look, or if you like, go overboard. See how church girls like to be extra with their hats? Now imagine taking that a notch higher. Classic baron hats that Beyonce occasionally parades in are a staple for any edge-craving girl.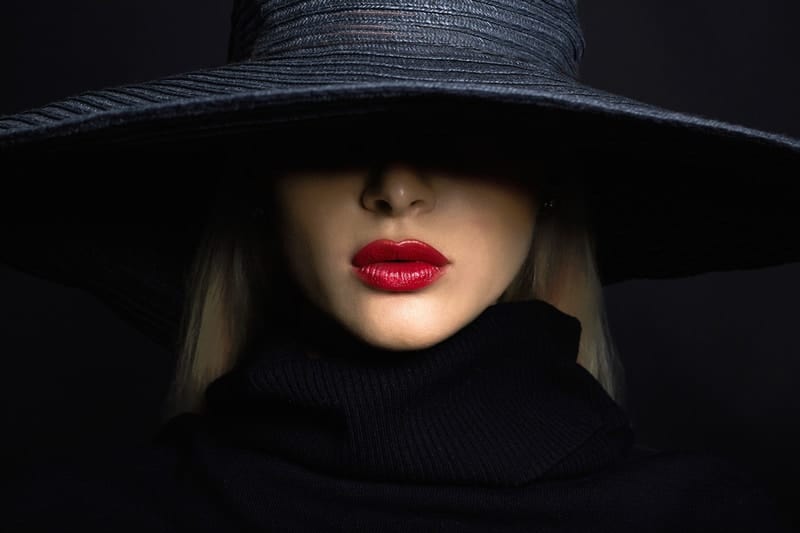 10. Attitude – what would edgy fashion be without some boss babe attitude to go with it. The overall style needs not a reserved, shy personality but someone who knows her worth and is not afraid to show it. Kind of a "don't tell me what to do" attitude.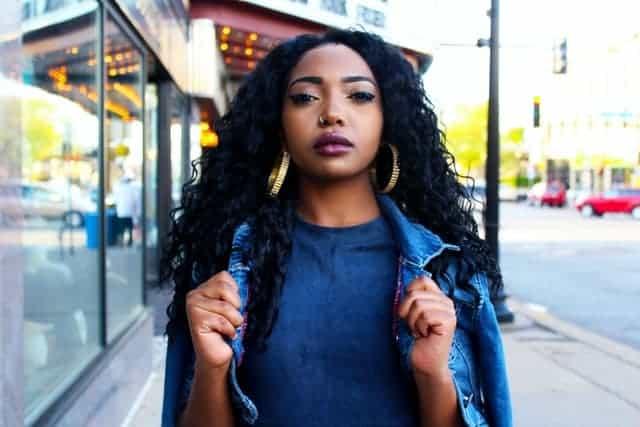 It shows in how you strut, how you carry yourself, how you talk, the style you embody, etc. As such, less attention on perfection is your ticket to "edge".
Tips on How to Transition to Edgier Style using Basic Pieces
Adding some bit of attitude to your overall look can be as simple as improving your styling hacks. You don't have to break the bank with a new wardrobe; you only need some good inspiration. Take a look at some these:
An off the shoulder – doesn't take much except pulling down one shoulder (if your top is free enough). And not just tops, but V- neck sweaters, button-down shirts, plaid shirts, and so on. It's a simple tip that can revolutionize your style.
A half tuck – for plus girls, a full tuck can work against you by creating unnecessary bulk, so to avoid this, go for a cute tuck at the center to give you a bit more waist definition. You'll look put together but with a dash of modern. As a bonus, you get to show off those attractive belts too!
Tie-up technique – this is an easy way to create a crop effect in case you can't access any. Tie up light fabric tops and sweaters and go about your day looking damn gorgeous!
Create a hybrid of styles – how you build upon each piece will determine how successful you are at realizing a trendy outfit. Pair pieces that wouldn't ordinarily marry or go together seamlessly – as long as the items are wearable. It's amazing just how much you can achieve when you are willing to take a chance.
How Edgy Can a Plus Size Girl Go?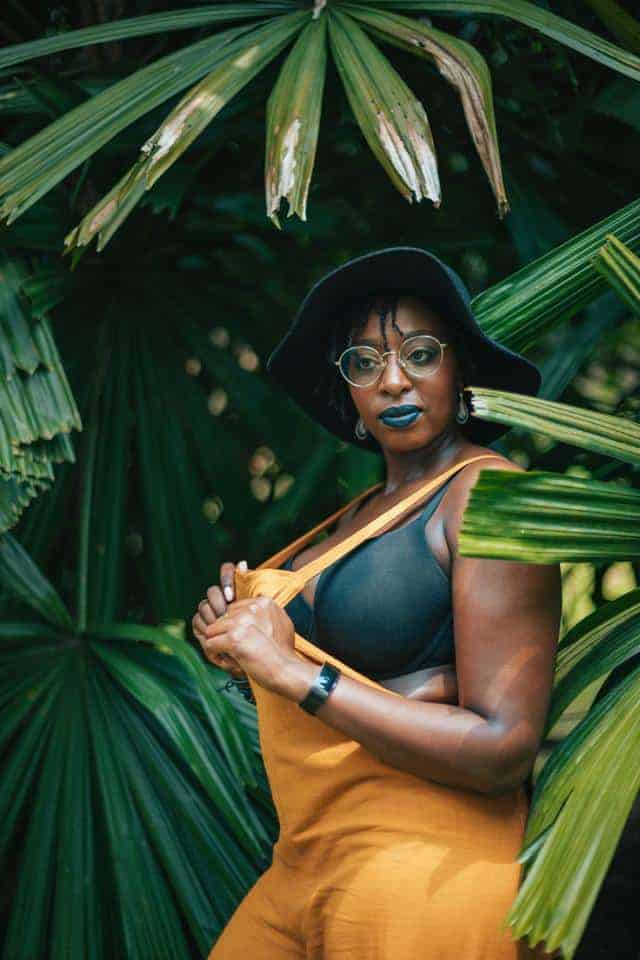 The human anatomy arguably plays a big role in what, and how we get to wear different types of clothing. Petite girls can get away with just about any length, cut, or design, but is it the same with plus girls? Are there unspoken limits to just how far you can push the bar?
In light of this, why don't we delve into a few hotspots.
i. Loose clothes vs tight clothes?
Both ways can convey an edge-like appeal depending on how you style it, but which is more "acceptable" for heavier women? In my opinion, tight clothing such as bodycon dresses are wearable, appropriately so, when you throw over an outer cover like a leather jacket or a flowy cardigan. However, be specific on the coat cuts to avoid watering down your style.
ii. Covering butt vs displaying it?
The kind of environment you find yourself in will largely contribute to how liberally you can dress. For the latter- especially if you are in the corporate world, this might come off as overly sexual, but if you're going out for drinks, or say a hangout with friends, you can certainly spruce things up. Also, what do you feel confident in? What brings out your best self? Use that as a baseline to make your clothing decisions.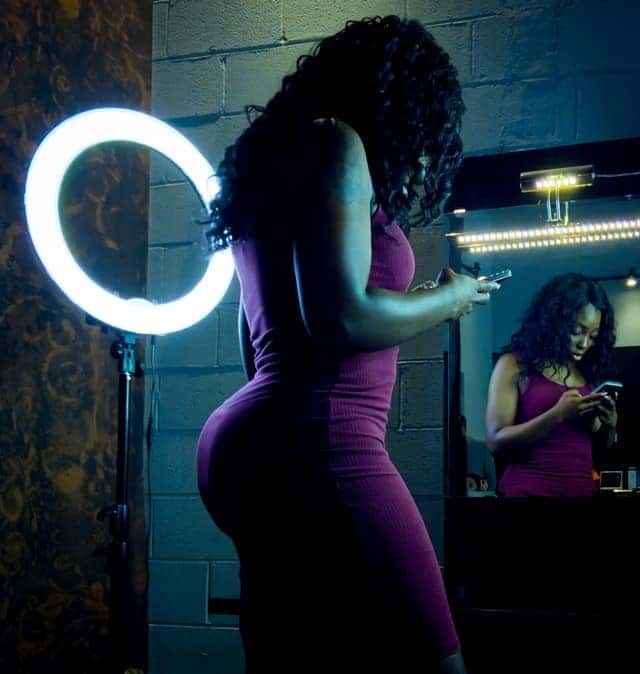 iii. The showing of cleavage
A plunging neckline is cheeky and works exquisitely for women with smaller chests. If you have the guts to rock this style, why not? Nevertheless, if you size up to a bra cup D, there still are witty ways to show off cleavage without appearing ratchet. Consider including a sheer or lace cami underneath to compensate for very deep V- necks. Also, you should be able to judge what tops require a bra lift and what can do without the pushup effect.
iv. Skirt lengths
A midi-skirt is classy, sophisticated, and timeless. It emanates an age-appropriate appeal when styled with tasteful tops. But this is not to imply that shorter versions are a no-go-zone. If this proves hard, layer your ensemble with a longer trench such that you create a mismatched effect length-wise. Still as edgy.
v. 6 inch heels
Hard to speak for all but from what I know, heels 6 inches high or more can be tough for a big girl to handle. If you can maintain your balance, kudos! You are a step ahead in modern wear. But if you can't, a kitty heel is not the way to go either.
vi. Crop top lengths
How much skin you choose to show is entirely up to you. Either way, this shouldn't be much of a big deal because you have the option of high-waisted bottoms. If you like, go as high as possible and disguise your midsection with some extra jean length.
Looking to upgrade your wardrobe? Here are some fashionable links from which you can gain artsy, plus size pieces at affordable prices.
Conclusion
Edgy plus size fashion can be anything you choose to make it. The most important thing is to unapologetically be yourself, whatever that looks like to you. Don't be afraid to try something scary or new, you just might turn out to be a pacesetter yourself!