We all have something about our bodies that we just can't seem to get a handle on. But that doesn't have to mean looking frumpy and unfashionable.  If you have big thighs, don't let that stop you from looking sexy every time you step out the door.  Learn quick and easy ways to accentuate your figure without sacrificing style that is trendy today. 
The key to looking your best and staying in fashion when you have large thighs is adding contrast with fabric, texture, and color, as well as playing with hemlines and accessories are sure to have you accentuating your figure in the best way.
1. A-Line Skirts and Dresses 
When you're looking to dress things up, be sure to invest in a dress or skirt with an A-line hem.  In other words, you can leave the pencil skirts on the rack.  The A-Line dress will accentuate your figure by showcasing a smaller waistline while flattering wider hips and bigger thighs.  Choose material that is light and flowing, and does not cling so tightly to the body.  Creating this movement will draw attention away from your thighs while giving a great balance overall.
2. Go for the Boot Cut 
Every woman loves a nice fitting pair of jeans or dress pants. Go for styles that are boot cut, rather than skinny or tapered leg.  Boot cut pants will enhance the entire look of the leg, minimizing unsightly bulges from big thighs.  For jeans, choose a material that includes a rayon or spandex blend to ensure a nice stretch where you need it.  For dress slacks, look for a pair that includes a liner, to prevent material from sticking to those big thighs while sitting.  You can also find dress slacks that include a spandex blend as well to help with comfort if your thighs spread when you sit. 
3. Bring Attention to the Top
Another clever technique is to arrange your outfit so that attention is drawn to the top half of your body as opposed to the bottom.  Look for tops that offer contrast and color, and also that offer unique style such as puffy sleeves or a fringed cap sleeve.  You can also add an accessory to the top such as a large flower pin, or a sparkling jewelry pin to capture the eye. This will definitely pull the attention up top and take the focus away from thick thighs.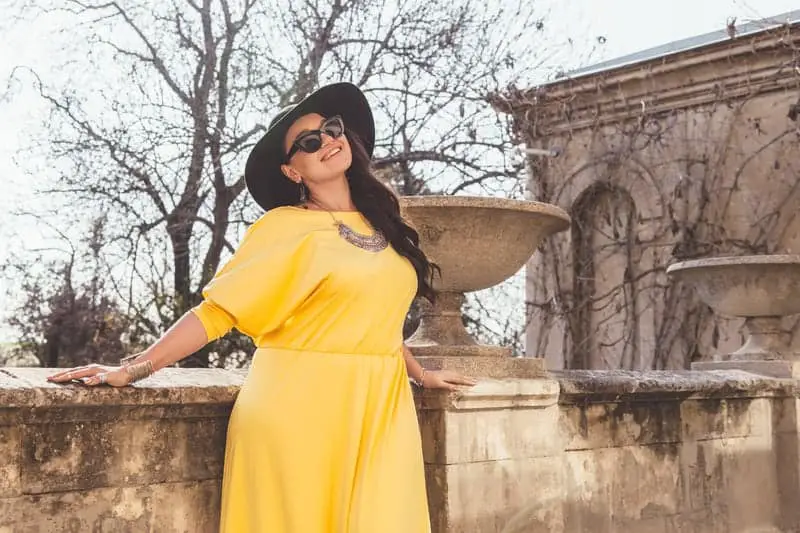 4. Say No to Capris 
Yes, capri pants look cute and fun, however, they are not the best pant option if you have bigger thighs.  The length of capri pants tend to make big legs look thicker, shorter, and bigger.  Instead, opt for a loose pant made of thin material that flows easily and hides the shape of the leg. 
5. High Heels Are a Must 
Flats are probably much more comfortable for long periods of walking and standing, but if you want to really accentuate your full figure, go for a nice heel.  High heeled shoes tend to elongate the look of the leg, therefore minimizing the appearance of big thighs.  Go for a three to four-inch heel and be sure to choose a heel that is thick and sturdy enough to support your weight. 
6. Shoes to Avoid
Shoes with ankle straps, boots that are ankle cut, and shoes that are a darker color tend to make big legs look bigger overall.  Instead, go for a shoe that is a nice slide-on, with no ankle straps, or, a slingback shoe that has a strap across the back of the foot.  If you are looking for a nice boot, make sure you go for the sexy thigh-high boot, that will give the illusion of a longer leg overall.  Also, shoes with a neutral or flesh tone tend to elongate the thigh.  These pair well with flesh tone dresses or add a nice bit of contrast when wearing darker colored pants.
7. Tops that Flatter
Instead of choosing a top that hangs low around the hips, try to find a top that sits right at the waist, or not much lower.  Right below the waist is usually the biggest part of the thigh and wearing a top that stops there will just make your big thighs look even bigger. Instead, look for a top that fans out at the waist, or one that fits around the waist snugly. 
8. Go for the Beltline
If you are looking to accessorize your look with a belt, chose one that is thick and wide to provide dimension to your look.  This will add depth to your outfit while drawing the eye away from bigger thighs.  Wide belts are usually already accessorized with a great buckle that will also attract the eye to another place besides your thighs. 
9. Accessorize 
Don't forget to accessorize as much as possible.  Large earrings, a sparkling necklace, eye-catching bracelets, and even jeweled hairpins all are easy ways to draw attention away from the bottom half and bigger thighs.  Look for pieces that not only coordinate with your outfit but also ones that are interchangeable and can go with many different looks. 
10. Put Your Best Face Forward 
Another way to draw attention upward is to put the spotlight on your face.  A dramatic smokey eye or colorful eyeshadow with a touch of shimmer is a great way to add balance to your outfit.  Also, shoot for a bold lip, like a creamy red or plum color to really make a statement and complete the look.
Ways to Tone Those Thighs
Having big thighs can be a beautiful thing, but it's also important to keep them in tip-top shape.  Here are a few easy moves you can do anywhere to keep those legs looking sexy:
Squats.  Yes, the infamous squat!  Super easy to do.  Stand with feet shoulder-width apart and lower your body weight until your knees bend at a 90-degree angle.  Be sure your knees do not extend past your toes.  Also, press your weight through your heels for the best form.  If your knees are bending past your toes, widen your stance to improve your range of motion. 
Lunges.  Standing with feet shoulder-width apart, take a large step forward, landing with your heel while keeping the other foot planted.  In this position, lower and raise your body weight. This is also known as a concentrated lunge and it is sure to give you a nice burn.
Calve Raises.  This move can be done standing on the floor, or standing on the edge of a step.  Simply raise your body weight up to your toes, hold for a few seconds, then bring back down.  Once you get good at this, you can pulse up for five seconds, then lower back down.  Be sure to do a calve stretch after performing this exercise. 
Brisk Walk.  A brief brisk walk is always in order!  It gets the blood flowing and gets your heart rate up and going.  A walk in the mornings, or in the evenings after a meal helps to jump start metabolism and also allows you time to decompress from the day. 
Take the Stairs.  I know it may be easier to jump in the elevator, but whenever possible try to take the stairs. The quadricep is the largest muscle group in the body, therefore making it the "engine" of the body.  Going up and down stairs is a great way to pump blood and oxygen flow throughout the body.
All in all, don't let having big thighs stop you from being and looking fabulous. You can still strut in style and also do your part in taking care of your body.  Men who love plus size women also love big thighs.  Your unique fashion sense is personal to you, and you can make it as colorful or as bold as you like.  Always be aware of how you are feeling about your body, and treat yourself to that sexy A-line dress to show off! Also, check out our top picks page for more.