Ah, summer. With all of its beach-going, pool-lounging, swimsuit-wearing outings. It arrives every year, and yet every year women around the world struggle with finding just the right plus size swimsuit attire to wear for all of those water-based summer activities. So what are the best places to start looking for water-friendly attire and accessories that will suit a plus size shape, and yet hide the thighs and not so flattering areas that we simply do not want on display? Read on to find out!
What is the best place to start your hunt for the best plus size swimwear and accessories that hide your thighs?
Head on over to social media, to find inspirational plus size ladies and their summertime attire, including bathing suits
Hustle over to the plus size webpages, for inspirational fashion styles that are suitable for curvier ladies and will make you feel comfortable in all sorts of water play
Hit up retro-inspired Instagram pages and blogs to find demure bathing suits that will fit the curves of us plus size girls but still cover up the bits we don't want seen.
Finding a suitable bathing suit for a plus-sized figure is no easy feat. This is particularly true in today's world of online shopping since a swimsuit on one plus-size lady is not going to look the same on me (or you, probably)! But have no fear, with the plethora of online shops offering free returns and exchanges, rest assured that with my tips and a little patience you will find yourself a great plus size swimsuit for the season.
1. Best Plus Size Swimwear That Won't Pinch
Now, it does deserve to be said that anybody with a body who is at the beach, has a beach body. Anybody who has a body and puts on a bikini has a bikini body. There is no intention to be ashamed of one's physique or their aesthetic in a bathing suit. Bathing suits are meant for everybody. Feeling comfortable in a bathing suit is very person-specific.
There are key things to look for in plus size swimwear and thigh-disguising accessories to ensure you can be comfortable and confident while at the beach or the pool. This is not code for selling plus size girls a muumuu to wear on the beach (unless, of course, that's your jam!). Our bodies are sexy and beautiful with all their curves, and we deserve to get a suntan with every other girl out there on the sand.
You can take these key tips, or you can leave these key tips – you are allowed to run amuck on the beach or at the pool in whatever your heart desires. You do you! Yet, if you are wanting a particular shapely look, or are just tired of uncomfortable swimsuits during the hottest months of the year, I've got you! Read one to get the low-down on what to look for and what to avoid in plus size swimsuits and accessories and get your summer started!
2. Keep An Eye Out On Fabrics
Swimsuits often have very strong seaming and their materials since their primary purpose is to stand up to water, waves, salt and so forth. This can be useful in terms of keeping your suit on, but it can result in a less comfortable and more squished seam around our thighs, arms, and so on when we are bigger girls. Keeping an eye out on fabric types, blend percentages, and suit styling can each play a role in helping us plus size girls to find suitable swimwear.
Keeping an eye on the materials a swimsuit is made out of can go a long way to getting you a plus size swimsuit that will stretch throughout the seams rather than squish your limbs through the seams. Fabric blends are going to the best for those of us with thicker thighs who don't want a squishy aesthetic as we lounge in the sun!
I am sure I am not the only girl out there who has bought leggings online, and put them on at home, only to find that they stretch so much on my thicker thighs, that they are nearly translucent and look more like tights than leggings. You do not want that to happen when you put on a bathing suit. Fabric blends are the key – because elastic and spandex are both fine materials, when combined into a strong, opaque material.
3. Look for Elastic To Let Your Body Breathe At The Beach
An added consideration for those of us with thicker thighs is looking for swimsuits that have more elastic in their fabric make-up and along their seams. More elastic means more give, so keep an eye out for swimsuits that offer up an elastane or a spandex proportion near to 20% for the most comfort.
Because after all, is there anything worse than the irritation our skin gets when the salt and the sand have been rubbing between our arms and our bathing suit, for instance? Or our thighs and the leg holes of our suits? Those red angry welts that pop up and sting when you hop into the shower after your day at the beach? There is surely no more irritating souvenir from a day at the beach than that skin discomfort.
So why not avoid that problem altogether by making sure the bathing suits you order are those which have enough elastane or spandex to truly allow your skin to breathe, and your limbs to enjoy a day out on the ocean.
4. Plus Size Beach Accessories that Hide Your Thighs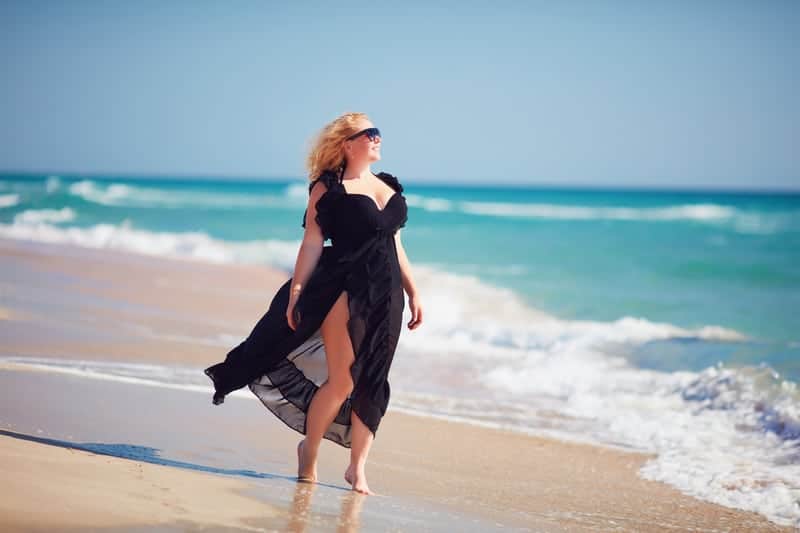 Now, I do not condone hiding any part of one's body. Our bodies get us from place to place, they allow us to hug our friends, to appreciate delicious meals, to take care of our babies, and to strut our stuff on the dance floor. Every body is a good body. That being said, I know that there are often pats of our bodies that make us uncomfortable and self-conscious, no matter how body-positive we try to be. If that area is your thighs, have no fear! There are plenty of accessories to conceal thighs you are less than proud of.
Sarongs are an exquisite and feminine way to hide your thighs without adding layers of material that will make hot days in the sun even hotter. Still allowing your skin to breathe but hiding the dimples and dents that you may feel self-conscious about, a sarong is an easy and cool way to disguise your thighs if you feel so inclined. Just tie a sarong around your waist, drape it down your hips, and you are a gorgeous mermaid woman ready for a walk on the sand!
Board shorts are an equally easy way to disguise your thighs, and there are plenty of options out there for women who want to look a bit feminine but still cover up. This board short from local brand Kanu Surf at Amazon.com offer up a chic thigh-covering boardshort that still looks feminine and chic. As an added bonus, wearing board shorts specifically made for women means that you can frolic in the waves without the fear of losing your bottoms in the water!
And if you want sun protection with your thigh coverage, why not check out a wetsuit? There are plenty of wetsuits available that are shorts-length, meaning that your whole leg won't be covered but that your thighs will be hidden from view. You still get the sun and the cool water on your legs from your knees down, but your upper thighs are tucked away. You get solid sun protection, and the alethic pleasure of not feeling like your thighs are on display. Target also offers a healthy selection of cover-ups.
5. Certain Styles Will Make a Seaside Siren Out Of Any and All of Us
Styles that suit us plus size ladies looking for summertime fun run the gamut, but specific styles do work better for specific figures. For instance, bathing suit bottoms with a high cut thigh seam will most often provide more leg room. Thus, if you are a girl with larger thighs, a high cut bathing suit is going to provide you more room for those thighs to freely run, jump and swim. 
Similarly, adjustable and lace-up features on one-piece or two-piece swimwear are going to allow the wearer to adjust their swimsuit to their shape. This is a god send for those of us who are not shaped as proportionately as the bikini models. (After all, who is?!) Tighten up where you want a little less jiggle, and untie where you want to give a bit of wiggle. The power is in your hands.
Finally, for those of us who are members of the itty-bitty-titty-committee but have ourselves some round derrieres, mix-and-match options are easily the best way to purchase a swimsuit. Go smaller on top and bigger on the bottom, swap a tankini top for a bandeau top, boy-shorts rather than high-waisted shorts, really the world is your oyster when mix and match swimsuits are accessible.
6. Plus Size Sizing
Knowing your measurements is also going to be significantly important in choosing a bathing suit – particularly in online shopping – because you will need a starting point to know what your sizing is relative to the swimsuit options you are perusing. Most websites or bathing suit brands are going to have their own specific sizing chart, but a generic plus size sizing chart is included here for your reference.

Bust


Waist


Hip


Women's Size


Misses' Size


Letter Size


43.5


36


46


16W


18


1X/XL


45.5


38


48


18W


20


2X/XXL


47.5


40.5


50.5


20W


22


49.5


43


53


22W

24
3X/XXXL

51.5


45.5


55.5


24W


26


54.5


48.5


57.5


26W

28
4X

57


51.5


59.5


28W

Of course, like anything else in women's fashion, plus size sizing can be a gamble. Check out our article on your specific shape category. The measurements listed on websites are not going to be clear enough with regards to how much stretch a particular garment has, or how the aesthetic of that suit may change with a certain amount of stretch. Which is why those free exchanges or returns are such a godsend! Keep an eye on your sizing, compare it to the sizing chart provided on the website you are shopping from, and cross your fingers. Most companies are great with exchanges for sizing anyway.
If you are feeling apprehensive, the best thing to do with sizing is to simply email the company prior to making any purchase, and explaining your concerns. Odds are good they will direct you back to their unique sizing chart, but at least you will have proof that you reached out if you run into any problems trying to exchange sizes if the suit you order does not end up fitting correctly.
7. If You Can, Try On In Real Life
Of course, for some of us with hard-to-fit bodies, the best thing to do is to try on bathing suits in real life at a shop, focusing on brands that you like or have worn on the past. This lets you see how a particular style suits your body shape, and lets you feel how that style fits, whether it pulls or pinches, whether you like it in reality as much as you thought you would when you saw it online.
If you try on bathing suits based on styles and materials, as discussed above, but also make sure to focus on the brand of each suit, you will be much more able to find that same bathing suit online. And once you know what size you are in a particular brand's suits; you will be able to order one online with significantly more ease.
So, whether you go into a surf shop and try on the plus-size options available, go into your local Target store, or even hit up a trendy boutique, make sure you make notes of the style of bathing suit that you like on your body. This will help you to search for that same style using keywords in an online store. Bathing suit shopping for plus size girls can be tricky but it is by no means impossible.
8. One Last Tip
Most companies are going to be good with returns or exchanges based on size, because they are run (or at least managed) by women and trust me, we all understand the trials and tribulations of bathing suit shopping! Just remember to wear your underwear when trying on a suit bottom, and leave the sanitary strip in the bathing suit bottoms until you are positive they fit! We also have some swimwear top picks you may like. Stores (online or brick-and-mortar) will not take returns of worn suits. And for good reason!