Being on your period can be anything but fun. Your body undergoes extreme hormonal changes that may spike unease, anxiety, and severe cramps. When it comes to that time of the month, every woman craves for more comfort and ease. Period Panties are designed to do just that. If you are wondering what the 5 plus size period panties you'll be glad you own are well, do read along.
Most plus size period panties are tailored to ensure full support and foam fitting coverage of the plus-size woman's butt and crotch area. Plus size women often have excess layers of fat or sagging skin around their abdominal region. Finding a good period pant that can adequately cling unto your body without being too tight to squeeze you, or too loose to leave gaps around your thighs and butt area is a definite lifesaver! When it comes to plus-size period underwear never compromise on coverage, size, and a good stretch in your intimates. Well-fitting panties are what will ensure that you reap all the benefits of having a period pant in the first place.
Period panties are essential pieces to add to any woman's wardrobe. They help to reduce the hustle and bustle that comes with 'handling' your cycle. For most women, the greatest dread during this time is to leak and soil their outfits as they go about their day or night. Nothing will scream volumes of your supposed-to-be-discreet affair than visible stains on your outer garments, favorite panties, or on your sheets when you wake up in the morning. The embarrassment, irritation, and panic can be engulfing.
Period Pants are designed to prevent such occurrences. Designed with a triple-layer ( and in some cases a four-layer) technology they help:
Absorb all the fluid and thus prevent leaks
Wick away any moisture and thus guarantee an extended duration of feeling dry and comfortable
Absorb any odour thus ensures freshness
Their waterproof design enables them to hold the fluid in for longer.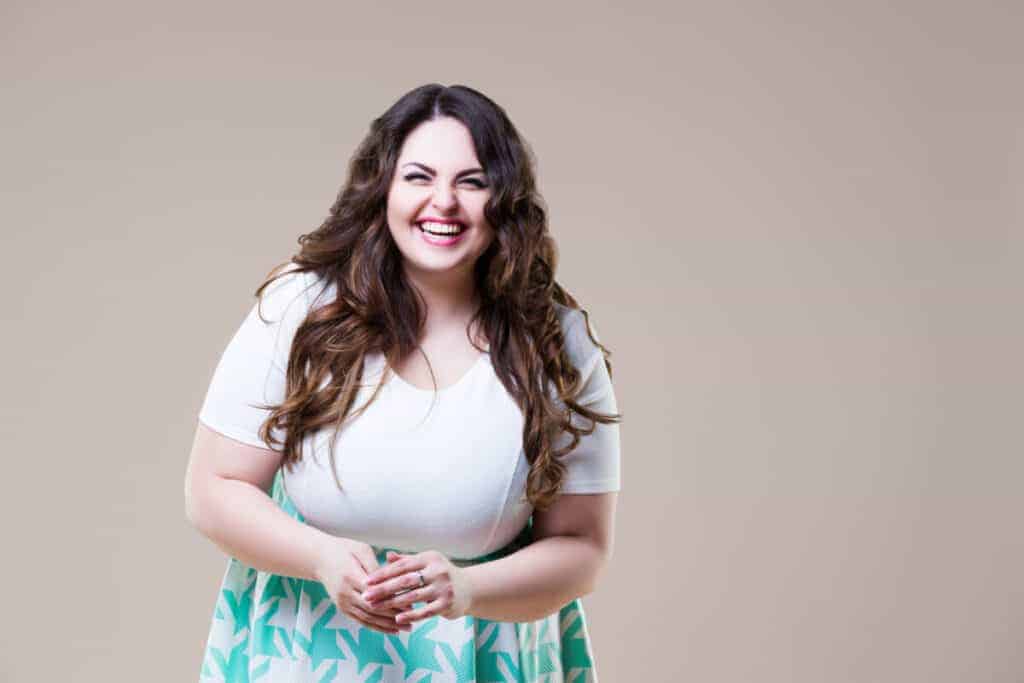 By design, they serve as a formidable layer of protection that stops any running fluids from seeping through your pant and unto your garments. High-quality period panties boast of versatility, style, great comfort, and is highly discreet. Gone are the days that you would only have to wear plain black while on your menstrual cycle. Fashion brands are increasingly expanding their color palettes when it comes to period panties, giving ladies all over the world a dash of fun and cuteness. You can find period panties in a range of colors and hues such as light red, pink, purple, nudes, greys, and the list goes on. Additionally, these panties are designed to be lightweight so as not to bulge out at the crotch area. Some tend to have a seamless ending to minimize the annoyingly visible panty line protruding through your garments.
Period panties have evolved to be quite trendy than those in the recent past. Who says you have to look boring? Simple patterns to more complex ones have been infused to make them look more appealing. They now take the form of briefs, thongs, bikinis, hipster panties and, box shorts. There are those which have lace, just to add to the style of the pant. With the array of choices presented, it's wonderful that all year round, women can look and feel stunning in their intimates.
Types of Period Panties
Generally, there are two kinds of period panties, those that are to be worn with a sanitary pad or a sanitary hygiene product and those which can be worn without. A majority of women typically wear period panties as an added layer of protection to their sanitary pads, tampons and menstrual cups. However, some completely substitute the use of these products and take to solely wearing their period underwear for protection. The reasons for this would be the eco-friendly nature of period panties and their light-weight and comfortable feel as compared to using menstrual hygiene products. It's important not to assume that all period underwear is to be used without a sanitary product.
The choice whether to use it solely or not is predominantly not a matter of personal preference rather it is pegged on the design of the underwear. Most period panties in the market today are designed to be worn with a sanitary pad, tampon or menstrual cup – they are not substitutes or alternatives to the same.
However, this is also influenced by one's flow. Women who have heavier flows would still be required to put on sanitary pads in addition to their period underwear. Off course, this is unless you are willing to carry a change of panties for use when the first pant is overrun. Those with lighter flows can get away with solely wearing period panties, as long as their flow does not exceed the absorbing capacity of the specific pantie.
Benefits of Plus Size Period Panties
1. Prevents leakage and staining – this is the primary benefit of period panties. They stop any leakages in their tracks. Their inbuilt design and technology traps and locks in all fluid, preventing any spills. Depending on the make, their superabsorbent layer can absorb as much as 1 to 4 tampons worth of blood without getting drenched.
2. Enables free movement – These panties ensure that your sanitary pads, tampons or menstrual cups stay in place throughout wear. As you move around, there is a greater risk of your sanitary towel dislodging, which may ultimately cause leaks and extreme odours. Average panties cannot firmly hold your pad in position and thus may occasion numerous slips and leaks as you move around.
3. Eco-friendly – Most sanitary napkins are non-biodegradable and thus detrimental to our environment. Statistics show that women use up to 8-11 pads on average during each of their cycles. Off course, more pads are used when they dislodge or shift around during a period of activity. Period panties ensure maximum use of each sanitary pad, tampon or menstrual cup. This will essentially result in the usage of fewer non-biodegradable products.
4. Reusable – most period panties can be washed upon use and reused over and over again. They are just like ordinary pantie.! However, there are period panties that are designed for only one use and should be disposed of afterwards.
5. Breathable – Period panties come with great enhancements that ensure that you don't feel stuffy or sweaty as you wear them throughout the day. Most manufacturers opt to employ the use of bamboo fabric, cotton, elastane alongside a mesh-like layer. These features ensure quick drying and proper ventilation of your crotch area without compromising on any leaks.
6. Comfortable – When you are on your period the last thing you need is added discomfort. These panties maximize comfort. They utilize fabrics that are soft and incorporate the right elasticity to ensure the pants fit well and feel fine throughout.
7. Easy to clean – Unlike average pants that may be eternally stained due to a few soils, these panties have the requisite technology to ensure that any spills can easily be washed out without leaving a trace. These pants can retain their shape and clean appearance over an extended duration of time.
The Best Plus Size Period Panties You Should Own
Here is a list of our top-ranked 5 plus size period panties that you definitely will enjoy wearing.
1. ModiBodi in Heavy Absorbency
Pros: Super absorbent, a wide range of sizes
Cons: The pant may feel heavy
This had to be at the top of the list. This period underwear is available up to a size 6XL and holds up to 4 tampons worth of blood. Yes, that much! It comes in 5 solid colours. Its high absorbent capacity is unparalleled alongside its light-weight and cosily fitting design. This underwear provides maximum front and back coverage.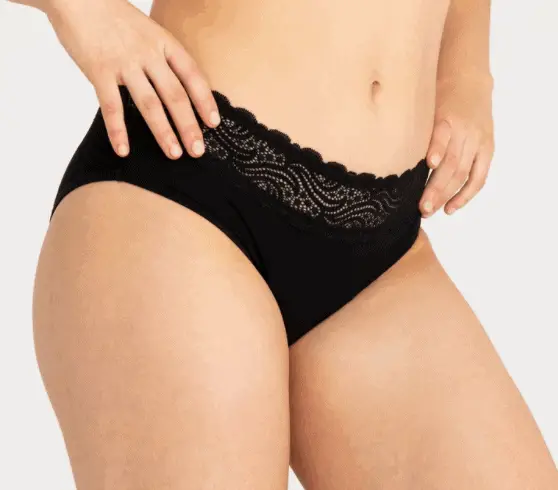 These panties brag of two unique features that make them stand out from the rest of the pack. First, they have a thick lace waistband which infuses them with great style and chicness. Second, they incorporate the use of bamboo fabric layers that make them breathable, fast-drying, and cool when worn. A majority of customers praise them for being 'super-comfortable', effective when on their heavy flows, and retaining their quality when washed and used over and over.
2. Thinx Hi-waist
Pros: Full coverage, great support, wider colour selection, stylish
Cons: Only for moderate to light flows
This flattering high waisted cut helps to firm you and hold you up. It is tailored to ensure that it is lightweight all through and thus comfortable and discreet. The Thinx Hi-waist provides full back and front cover and has a thin nylon-elastane lining that ensures it sits firmly in place without moving around as you go about your day.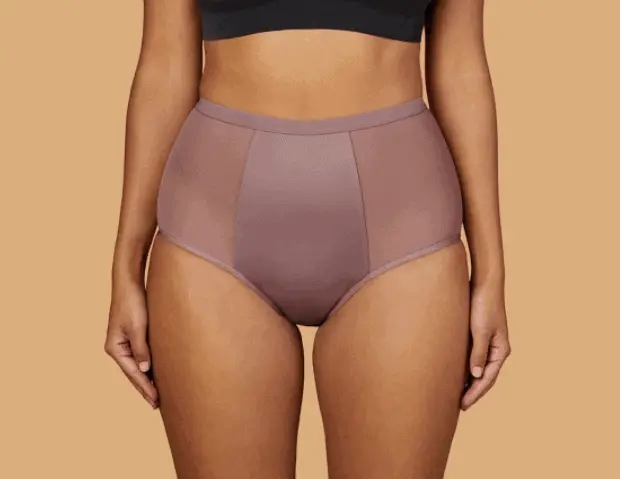 These panties hold up to 3 tampons worth of blood however several reviewers claim that it is pretty much leak-proof. At $ 29 you can choose one from 3 bold colors inclusive of a cheetah print. Its size range is up to a 3XL. A reviewer claimed it to be one of the sexiest panties they had ever owned!
3. Innersey Cotton Period Panties
Pros: Comfort, Leakage-proof and Affordability
Cons: Sizes are only up to an XL.
For all cotton panty lovers, you will enjoy the great comfort and functionality of this piece. It is made up of 95% cotton and 5% spandex and comes in a value pack of 3. The cotton ensures full-proof leakage protection, it acts as a hypoallergenic layer barring the development of any fungus on your pant and is soft and non-irritant on your skin. The spandex gives it the requisite stretch and elasticity that enables it fit snugly on your body.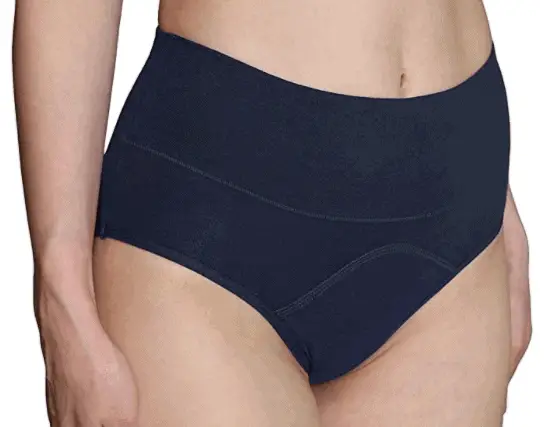 These panties provide full coverage at the backside and front. They hold up to 2 tampons worth of blood. Therefore, they are ideal for only medium to light flows. They are also to be worn with a sanitary pad or product and not on their own. They can be purchased from Amazon for as little as $ 20.
4. Ruby Love Period LoungeWear Sleep Boyshort
Pros: Super comfortable, leak-proof, different colours
Cons: Quite pricey
We had to include some boyshorts on this list. Boy shorts can be worn in various settings and are extremely comfortable making it ideal for nightwear. Ruby's boy shorts are 100% leak-proof and customers do attest to this being true. They are designed with a protective layer that runs along the full expanse of the pant-front, back and the sides. This obliterates the possibility of any leaks.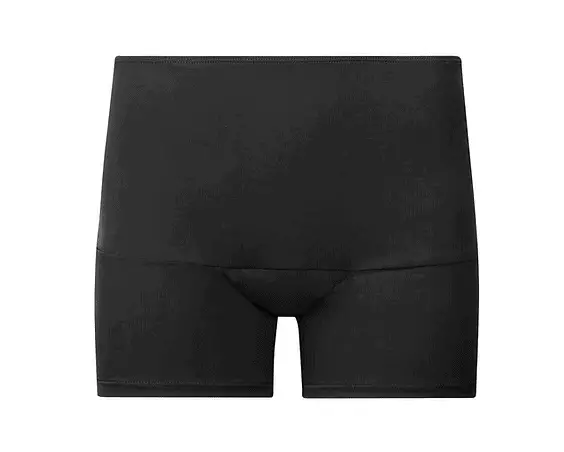 These shorts come in different colors and patterns thus widening your fashion options.
5. Knix LeakProof Bikini
Pros: Versatile use, No panty line, comfortable
Cons: Only for light flows, partial coverage
Yes, you can spice things up with a bikini even on your period. These Bikinis are available up to a size 3XL. They come in a range of nudes, which allow them to be more discreet. Their high thigh cut allows it to be free from the annoying plight of visible panty lines.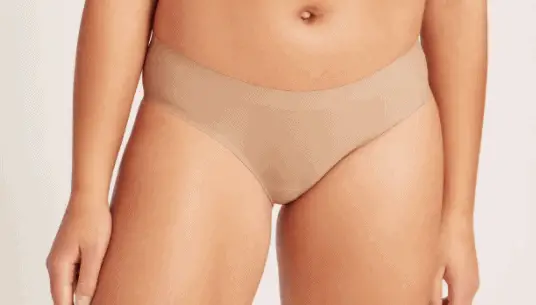 They are comfortable, hold up to 2 tampons worth of blood and are super foam fitting. They can be worn to the beach, gym and your basic everyday routine, of course when your flow is lighter. You can purchase them from the Knix website.
Final Thoughts
A common question asked by most women is how they can clean their period panties. Cleaning is a vital exercise that if not properly done, may lead to the build-up of fungus and other bacteria on your underwear. To effectively clean your period pantie, it is advisable that you avoid machine washing, but opt to handwash it yourself. Cleaning your period pant should not be a problem if you follow these simple steps.
Remove your period pantie and rinse any bloodstain off in cold running water.
Soak it in cold soapy water for 5 minutes (opt for ordinary bar soap and not a harsh detergent).
Gently handwash it all through
Once done rinse it thoroughly under cold running water
Hang it out to dry in the sun
With that, I hope you will enjoy wearing your period pantie and feel great throughout your cycle. For more pantie info check out our Underwear Top Picks.
Recent Posts